Sudio Tretton Wireless in-Ear Earphones Review- All You Want To Know!
Many people are familiar with Sudio as a high-end wireless earphone brand. I have used several Sudio products, including Elva, Ett, Fem, etc. Although most of the brand's earphones are generally well-designed, I found some audio quality hits and misses.
Recently, Sudio introduced the Tretton as a fresh, which was well-liked right when it hit the market. It's understandable, too, because its features are quite impressive.
Check out this Sudio Tretton Wireless in-ear earphones review to know more.
Sudio Tretton Wireless Earphones Overview
| | |
| --- | --- |
| Type | In-Ear Earphones |
| Playtime | Around 9 hours |
| Colors | Black, White, and Pink |
| Bluetooth  | 4.1 |
| Range | 10 meters |
| Compatibility | Both Android and iOS |
Sudio Tretton Wireless in-Ear Earphones Review
Sudio Tretton's main features are excellent sound quality, long battery life, and elegant design. In addition, they are easy to wear and do not fall off from the ears easily.
Sound Quality
The sound quality of the Tretton earphones of sudio continues the tradition of Sudio's other earphones. In my opinion, this earphone offers a well-balanced sound quality with tight bass and a generally even mix. If I had to describe the sound quality in two words, then it would be "clear" and "pleasing" to the users.
Whether you're listening to your favorite jazz music or Jay Shetty's "On-purpose" podcast, the balance feels natural, which is precisely what everyone wants, right?
The earphones' use of Qualcomm's cutting-edge audio codec, which supports AptX, allows them to deliver audio of higher quality than many other earphones.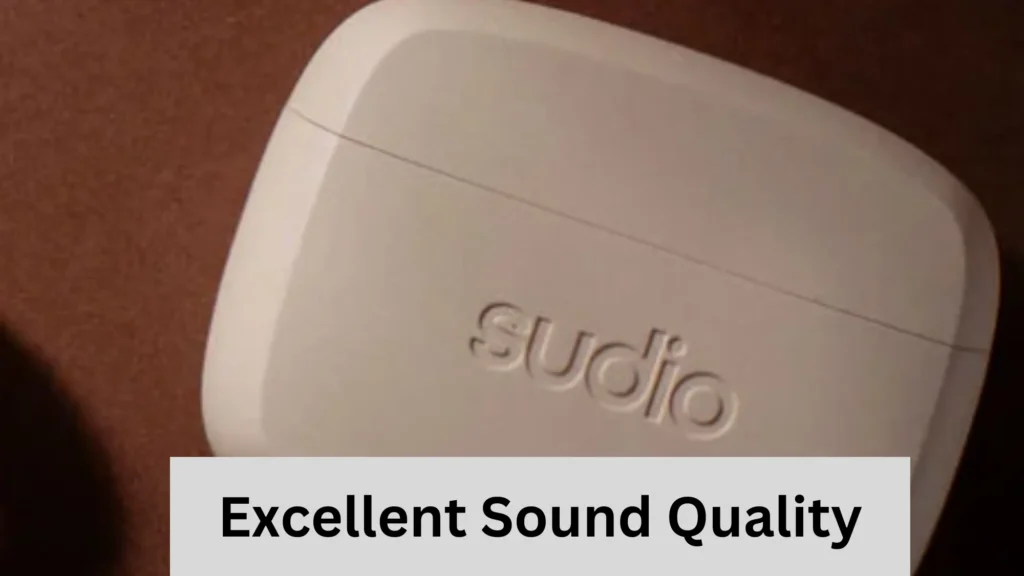 Here are the main points that describe the sound quality of Sudio Tretton:
Balanced sound signature- This means that the bass, midrange, and treble frequencies are well-balanced.
The bass response- It is tight and controlled, providing a good punch without being too "aggressive."
The midrange- It is clear and detailed, allowing vocals and instruments to be heard with clarity.
The treble- It is crisp and clear without being too harsh or overwhelming.
Easy to Wear
The Sudio Tretton in-ear earphones performed brilliantly, never once dropping out of my ears, no matter how many times I jumped (whether working out at home or dancing at my place).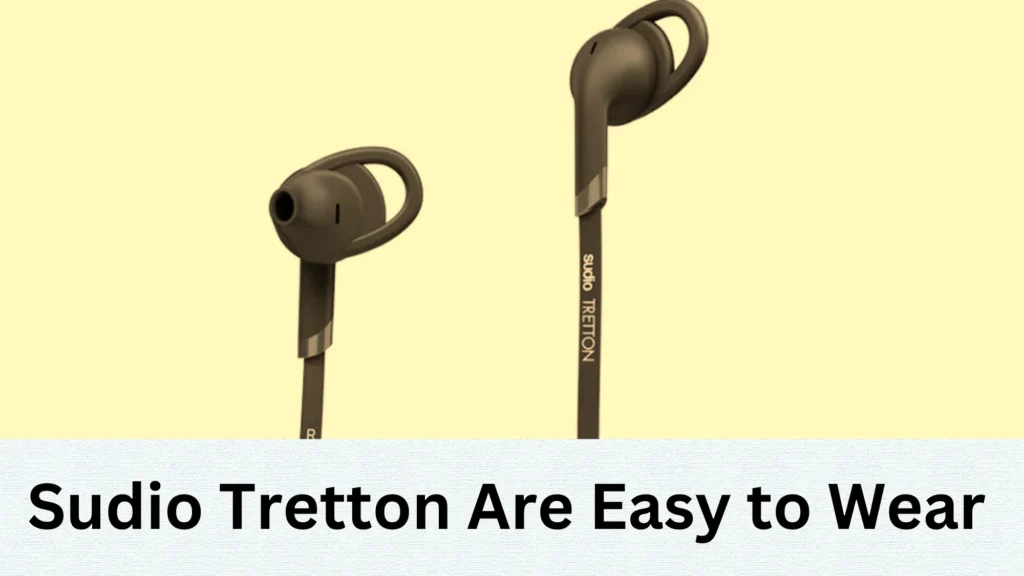 These earphones come in three tip sizes. You can try all of them and put on the one that sits perfectly in your ears.
Battery Life
Without noise-canceling turned on, you will be able to get nine and a half hours in total and six and a half hours with it turned on.
The incredibly quick charging is its best feature in terms of battery life. You should get at least 2 hours of gameplay after just 10 minutes of USB charging. However, we suggest you let it charge to 100 percent before you use them.
Design
These Tretton earphones continue their brand strategy of using clean, Scandinavian design elements. They are rubberized matte black plastic and have two small blocks that house the battery, charging connector, and control buttons. They are coupled to a flat non-tangle wire.
Furthermore, the leather case is always a welcome feature, guarding the earphones against damage from my keys while they are in my pocket.
So, if you prefer the design to be elegant, the Sudio Tretton is for you.
Other Features
The other specifications of these newly launched wireless earphones are:
Compatible with Android and iOS.
Sweat-proof.
Quick charge in just 10 minutes.
An integrated microphone.
The range is 10 meters.
Bluetooth: 4.1
Also Read: Should You Buy Wired or Wireless Headphones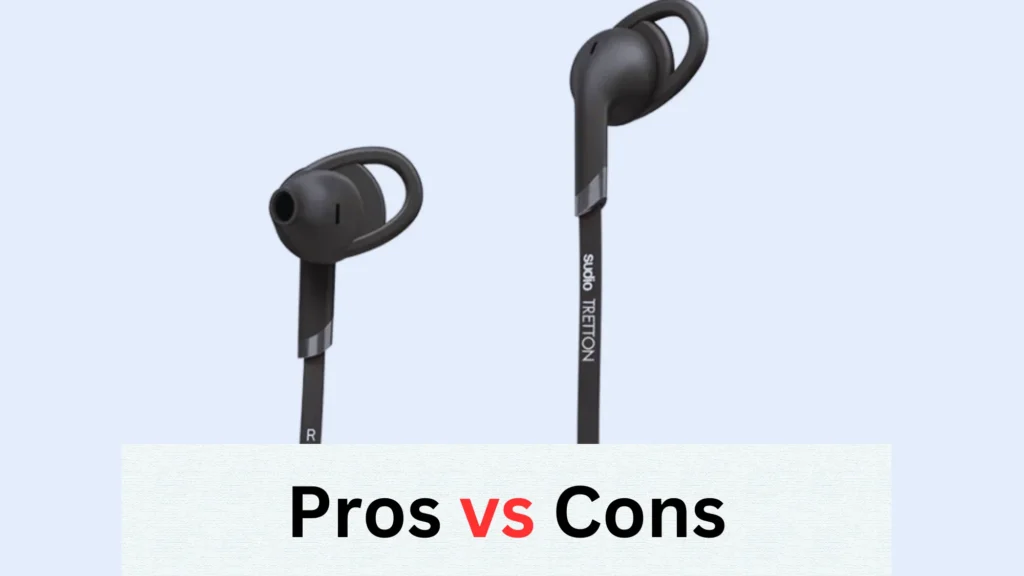 Pros and Cons of Sudio Tretton Earphones
Reading the pros and cons helps you decide whether you should buy a specific product or not. It is because you get the idea of whether you should spend money on it or go for something better.
| | |
| --- | --- |
| Pros | Cons |
| Better soundstage | Average noise-canceling |
| Soft sub-bass | Runs out of stock really quickly |
| Vibrant tone | |
| Satisfying customer feedback | |
| Easy Fitting | |
| Fast charging speed | |
| Excellent customer service | |
| Orders that don't meet the shipping minimum will all be charged a flat-rate standard shipping fee of $25. | |
How to Set up Sudio Tretton Earphones?
The setup process for Sudio's earphones is the same as others. Follow these steps:
Make sure the earphones are charged.
Disable Bluetooth on your smartphone.
Press and hold the center (play/pause) button for around 5 seconds. The case will light up, and you will also hear a beeping noise. 
Turn on Bluetooth on your device.
Navigate and choose "Sudio Tretton."
History of Sudio
The Swedish audio company, Sudio, strives to create products that bring music to life through heart-pounding rhythms and immersive deep listening. The company started in 2012 and is coming up with new ideas.
That's not it. Sudio also collaborated with Carbon Footprint Ltd. to establish a carbon-neutral organization. So, it is an environmentally-friendly company too.
Wrapping Up
All in all, the Sudio Tretton Wireless in-Ear Earphones are one of the best true wireless earphones in their price range.
Despite a few minor flaws, the sound profile is immediately engrossing and distinguished by a vibrant timbre and expansive soundstage.
Furthermore, these earphones are fast and responsive, making them functional and entertaining at the same time.
Plus, these earphones offer great battery time (more than six hours) and ultra-fast charging speed.
So, if you are thinking about getting new earphones, the Sudio Tretton is, without a doubt, a great choice. That's all about Sudio Tretton wireless in-ear earphones review.
Related: Skullcandy Sus Evo Review