Skullcandy Sesh Evo Review- Should You Buy Them?
Skullcandy Sesh Evo is a popular earbud that is praised by thousands of people. Still, it is better to read a review before buying a product to know about its features and possible problems you may face. Doing this will help you have a better user experience without any frustration and regrets.
In this Skullcandy Sesh Evo review, you will learn about its specifications, pros, cons, and how well it performs when compared with other earbuds.
Let's start.
Skullcandy Sesh Evo Review- Is This Wireless In-Ear Bluetooth Earbuds Worth It?
 Skullcandy Sesh Evo is a good choice for any occasion because of its features.
Skullcandy Sesh Evo Key Specifications
The specs of Skullcandy Sesh Evo True Wireless Earbuds are as follows:
The earbuds have 6mm drivers.
It offers 5.0 Bluetooth connectivity.
USB-C port is used.
Both earbuds weigh 63.5g with a case.
You can enjoy 5 hours of battery for earbuds in one go and 19 hours of charging case.
It has an IP55 rating. It means these earbuds are dust and waterproof.
Let's now go through the details of Skullcandy earbuds features.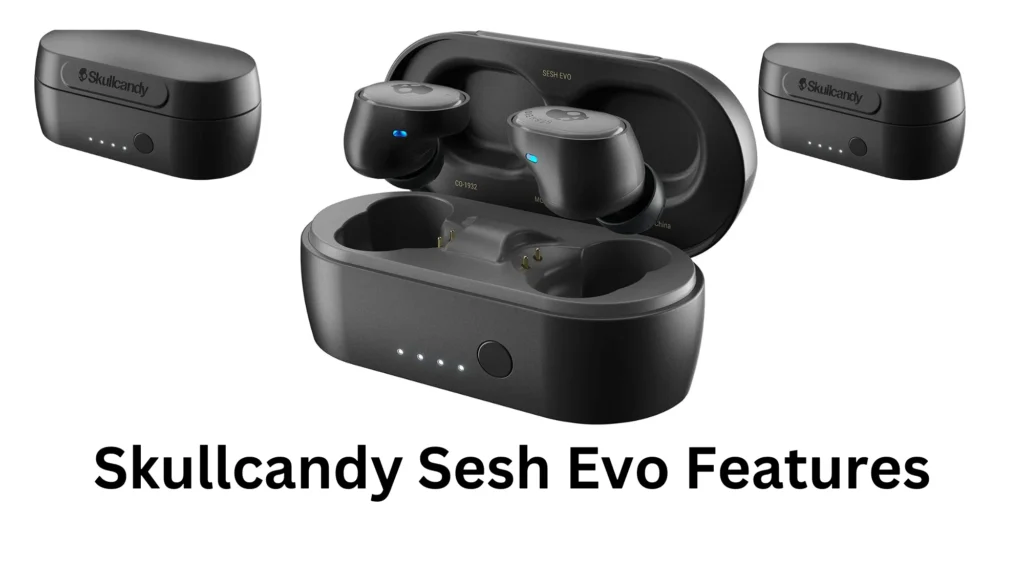 Design & Shape
The charging case of the Skullcandy Sesh Evo is designed using plastic to reduce its cost and make it affordable for everyone while maintaining quality. It looks good in shape and compact size with a matte finish. It has a lid on top to which a strong magnet is attached to open the case easily and close it firmly.
On the front of the case, four LED lights have been attached, showing the earbuds' battery level. The charging case has a USB-C port present at the rear panel of the case. For this, USB-C charging is included in the box.
These earbuds are available in five colors:
Deep Red 
Bleached Blue
Chill Grey
True Black
Pure Mint
Fitting
Its ear gels come in three different sizes (small, medium, and large) to ensure secure fitting. Furthermore, they have an anti-slip coating or texture, and their control buttons have a silicone coating on them.
Portability
The Skullcandy earbuds can easily fit into pocket space. The case weighs 63.5g, which is lightweight to carry easily. So, if you travel or stay outside a lot, these earbuds are a good choice.
Easy to Use
Skullcandy earbuds are really simple to use. Below is a list of controls we can perform using the physical button:
| | |
| --- | --- |
| Action | What It Does? |
| Press either earbud one time | To Play/Pause the audio/video or to Answer/End a Call |
| Press the right earbud two times | Increases volume |
| Press the left earbud two times | Decreases volume |
| Press either of the earbuds three times | Activates Assistant |
| Press and hold the right earbud for one second | To Forward/Next Track |
| Press and hold the left earbud for one second | To Back/Previous Track |
| Press and hold either of the earbuds for three seconds | To ON/OFF earbuds andStay-Aware Mode |
| Press either of the earbud one time and then hold for a few seconds | To make a new connection/pairing |
Battery Life
The Sesh Evo provides a battery life of 24 hours (with case). In one straight go, you can use these earbuds for around five hours easily. Battery timing depends on the listening volume level. It can sometimes even run for six hours if you listen at low volume.
Its case has an LED light which indicates the level of charging of your case. If it turns green, then you should unplug the charger as the charging has reached 100 percent.
Sound Quality
The sound quality of Sesh Evo is ideal for some hip-hop and hard rock genres. The reason is that it produces a sound profile of heavy bass. Contrarily, the low bass has somewhat dullness.
Skullcandy also has a clear and detailed mid and high-frequency range for listening pleasure.
In addition, it has three modes like music, movie, or podcast mode. In podcast mode, it is optimized for spoken content as the bass is reduced, and the main focus is on the fluency of the voice. While in movie mode, the bass is amplified to give full enjoyment of the action. You can adjust the sound according to your taste or mode.
Connectivity
The Sesh Evo offers strong and easy connectivity to your device. It is manufactured with Bluetooth 5.0, which means the connection can withstand any kind of distortion.
To pair with your device, just take out your Sesh Evo earbud from the case, and they will automatically connect to your already paired device within seconds.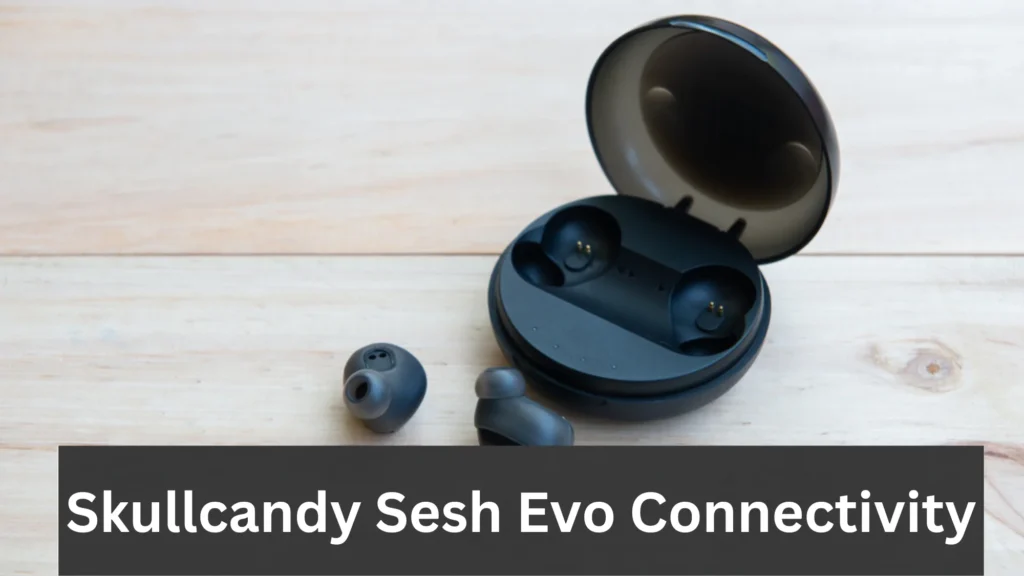 But if you do not have a case nearby or the earbuds are already out of the case, you just need to press the control button for a few seconds, and the earbuds will pair to your last connected device.
Tile Tracker Connectivity
Losing earbuds and not knowing where they fell is a nightmare for every earbuds lover. Luckily, Skullcandy helps you find them with Tile Tracker. First, you will have to pair the buds with the tracker.
When pairing is complete, you will hear a sharp whistle from each of the Sesh Evo earbuds. If you lost your earbud in your house or a car, this app would help you to locate them as it shows whether you are moving closer to the earbuds or away from them.
Note that the earbuds need to be charged. Otherwise, you cannot locate them.
Skullcandy Sesh Evo Earbuds Pros and Cons
After reading Skullcandy Sesh Evo review, it's now time you check out its pros and cons.
Pros
Comfortable and stable in fitting.
Have an IP55 rating for dust & water resistance. 
Offer three preset EQ modes.
Affordable and available at a reasonable price.
Have a good Bluetooth range of about 10 meters.
Offer the feature of Tile tracking.
Cons
They have Strong bass, but sometimes it feels too unclear.
Comparison of Sesh Evo with Some Others
Want to see how Skullcandy Sesh Evo performs when compared with others? Then this table is for you:
| | | | | |
| --- | --- | --- | --- | --- |
| Factors | Sesh Evo | Indy Evo | Grind | Push Active  |
| Bluetooth | 5.0 | 5.0 | 5.2 | 5.2 |
| Battery | 5 hours | 6 hours | 9 hours | 10 hours |
| Battery with Charging Case | 19 hours | 24 hours | 31 hours | 34 hours |
| IP Rating (Sweat and Water Resistance)  | IP55 | IP55 | IP55 | IP55 |
| Tile locating Technology | Yes | Yes | Yes | Yes |
| Auto Connect feature | Yes | Yes | Yes | Yes |
| Activate Assistant | Yes | Yes | Yes | Yes |
| Use one bud at a time | Yes | Yes | Yes | Yes |
| Hands-Free voice control | Ꭓ | Ꭓ | Yes | Yes |
Final Thoughts
All in all, Skullcandy Sesh Evo is a top-quality earbud. It offers lots of features like impressive audio quality, long battery life, water & dust resistance, strong connectivity, etc.
That is why you can put them on any occasion you want. So, go for them!
That's all about Skullcandy Sesh Evo review.
Also Read: Should You Prefer Wired Headphones or Wireless one?