Top 15 Productivity Apps For Remote Work in 2023
If you work from home, using productivity apps can completely transform your work life. Despite the prevalence and advantages of remote work, many people still struggle to remain productive all the time.
Luckily, there has been a rise in the number of apps for remote teams over the past few years to support remote businesses. By facilitating communication and online collaboration, team productivity apps increase your team's output.
So, Which are the best productivity apps for remote work?
I have highlighted some of the top 15 productivity apps that will help you to choose the perfect app for your team. So, without any further ado, let's get right into it!
Productivity Apps For Remote Work
Let's review the different remote work tools you'll require, and I will recommend the top apps in each category.
Team Communication Apps
When working remotely, you'll want a way to communicate with your team without having to schedule calls whenever you have a question. An email is the most popular option, but it's not the best way to have regular, personal interaction. The apps I strongly recommend to communicate with your team easily are Slack and Pumble.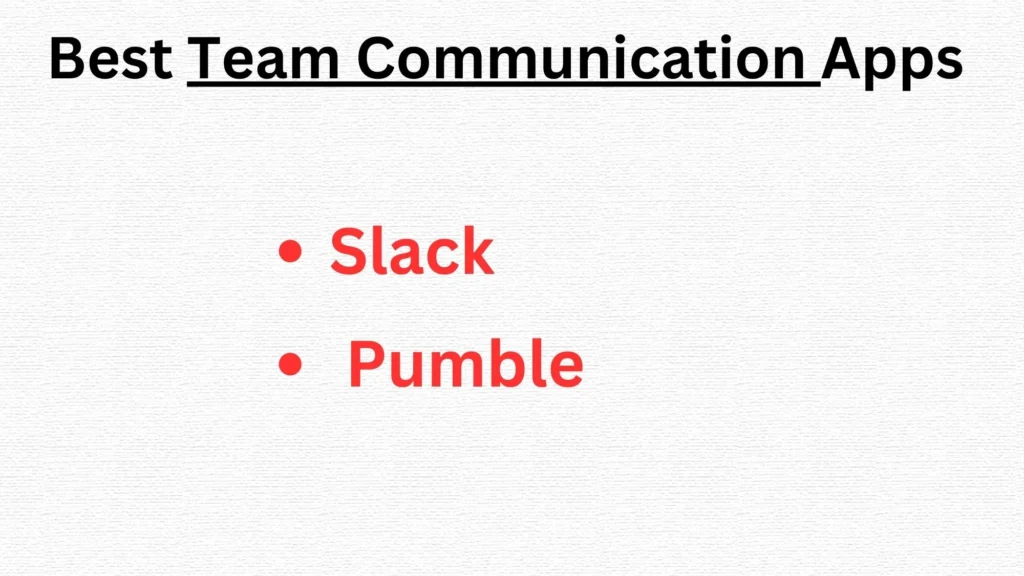 Slack
Slack is a team communication app that helps remote teams communicate easily to enhance productivity and general efficiency. Users can work together in real time by using this app. You can share files and documents, join channels and groups, and message your coworkers using Slack.
Moreover, it offers file sharing, archiving, and real-time messaging. It is made to make it easier for teams to work together, whether they are based locally or across the globe. Some of the main features of slack include:
Designated channels to have concentrated talks.
Search through team communications to save time.
Workflow builder to make communication and automated actions.
Around 2000 apps, including Google Drive and Office365, are integrated with Slack.
Pumble
With the help of the instant messaging tool Pumble, you can instantly chat with other network users without leaving the app you're using right now. Any team can work together on tasks and other projects in the pumble app.
Pumble allows you to schedule meetings via email or text with clients or employees. Real-time communication is included, enabling private one-on-one conversations, invitation-only group chats, and open discussions with anybody who is interested in participating. Some other features of the Pumble app are:
Collaboration, file sharing, video conferencing, voice calling, and screen sharing are available.
Easy to use.
You will have free, unrestricted access to your full chat history.
Easily available for Windows, macOS, mac, Linux, Android, iOS, and the web.
Project Management
Just so much can be captured in task lists, right? That's why a full-fledged project management app is significant for every remote worker for processes with more sophisticated time-management requirements. The project management app I recommend are Asana and Trello.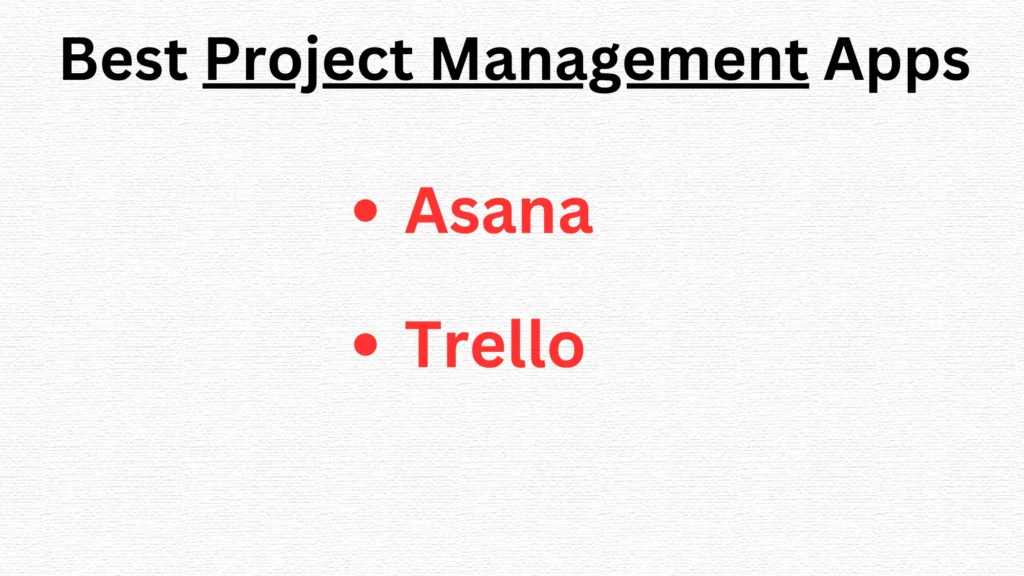 Asana
Asana is a productivity app used to maintain your motivation and productivity. This app can manage tasks, group your work into projects, assign tasks and responsibilities, and communicate with team members. Seems like a necessity, right? Keeping your work structured and keeping track of how far along you are with each assignment makes your life easier.
You'll have the opportunity to manage your tasks and monitor your progress on them in Kanban boards and traditional list views, where you can checkmark jobs as you finish them. Some of the key features of the Asana app are:
Gives follow-up on each task's progress.
Can visualize workflows and carry out action plans.
Available on the web, android, and iOS.
The app is free for up to 15 members.
Trello
Trello is a productivity app for project management that groups all your projects into boards. You can assign cards to different persons inside the board, so everyone understands what needs to be done next or who will be responsible for it. The app makes arranging anything in your life simple, including the tasks you have to complete today or this week! Some of the key features of this app are:
Ability to add information, including comments, checklists, and due dates.
To establish the status of each Trello card, you can add different steps.
A workflow automation bot called "Butler" is built to automate repetitive processes.
Supports the use of labels to group or classify cards.
Time Tracking Tool
 While leading a completely remote team, time-tracking tools are very helpful. They have several wonderful features, like reporting, analytics, timesheets, etc. The best time tracking tools for remote work are Time Doctor, Apploye, and Toggl Track.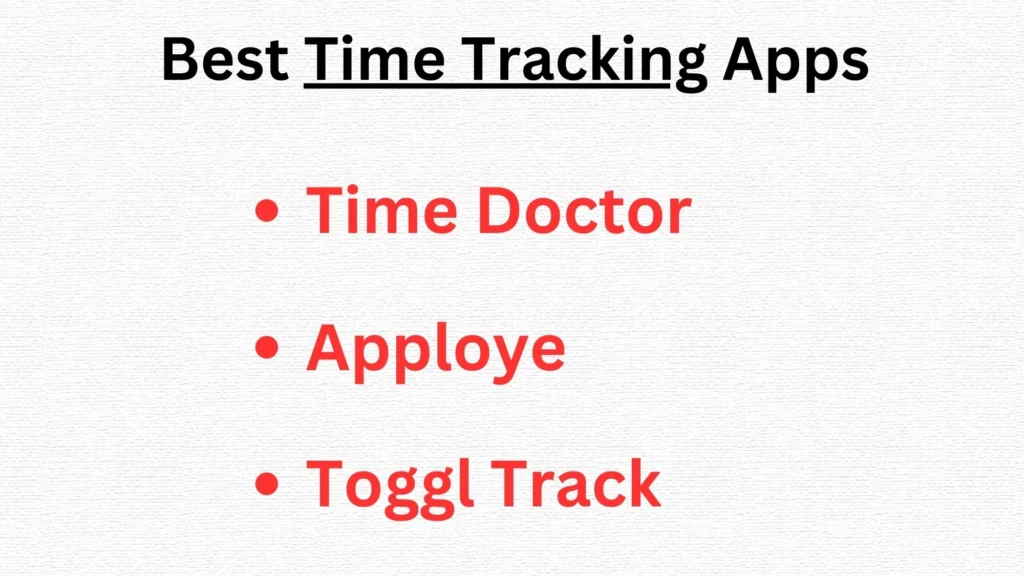 Time Doctor
Another time-tracking productivity tool is called Time Doctor. It assists in productivity management by sending out distracting notifications. If you are getting sidetracked by Facebook, Instagram, or YouTube, this app will instantly notify you. Also, if you are left inactive for too long, it will notify you at this time too.
It may also be integrated with numerous programs like Asana, Jira, Trello, Slack, GitHub, and QuickBooks. Also, it features an API, which simplifies how this program functions. The key features of the time doctor app are:
Gives distraction Alerts.
API and Integrations are available.
All Device Compatibility.
All devices running Windows, Mac, Linux, iOS, and Android are compatible.
Apploye
 All types of organizations can use the all-in-one time tracking software called Apploye. With the use of a desktop program, you can easily begin or end your job with a single click, and it will be recorded.
With the help of the Pomodoro timer in this software, you can concentrate on your job while increasing your productivity by taking regular breaks.
It contains more than 100 features, including attendance control, staff management, remote employee monitoring, time management, and payment management. Its key features are:
Pomodoro Timer and Geofencing Attendance are present.
It also has GPS Attendance.
Enables time tracking in real-time from any location.
Track employee whereabouts if the task involves fieldwork.
Toggl Track
A time-tracking tool called Toggl Track measures how much time users spend on a project.
The software was initially created to assist freelancers in keeping track of the amount of time they spent on projects so they could accurately charge their clients and achieve their financial goals. Since then, this popular team productivity app has developed into a tool utilized by numerous collaborative teams at work. Key features include:
Keep both manual and automatic time records.
Through thorough reports, learn more about the team members.
Dashboard for projects that estimates costs and deadlines.
Offers Chrome and Firefox browser add-ons.
Video Conferencing Tools
A video conferencing application is essential to use when communicating crucial information, conducting team building exercises, or conducting interviews for remote employment because a lot of information is misread in writing.
The two most well-known video conferencing productivity tools for distant teams are Zoom and Google Meet.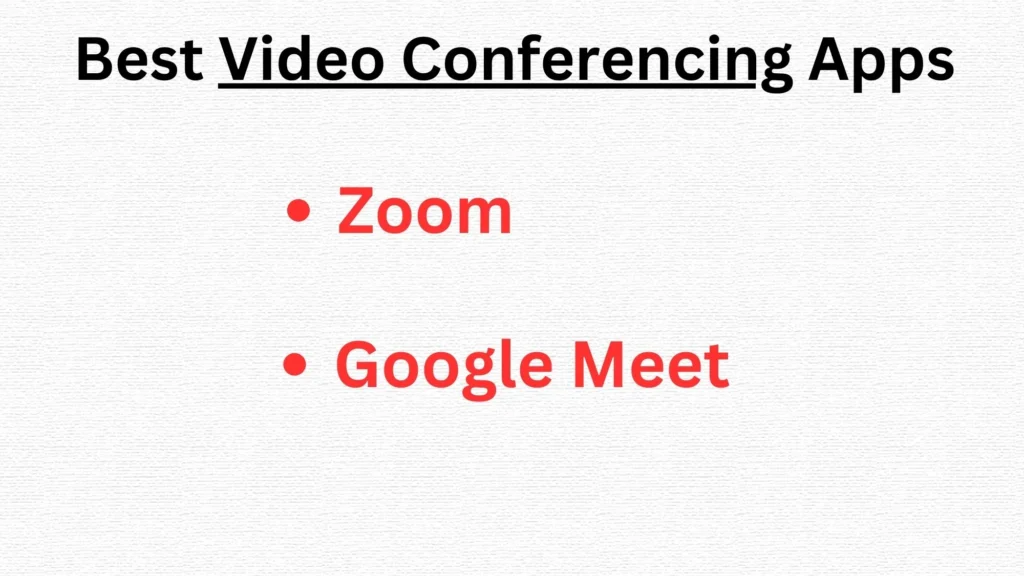 Zoom
When Covid-19 ordered us to stay inside our homes in 2019–2020, Zoom shot to stardom, and there has been no turning back since. No doubt, this application absolutely altered the whole way we connect with our distant workers. With the use of video conferencing, interviews are conducted, people interact, and workshops are organized. Its key features are:
Up to 1000 persons can participate in audio and video calls.
Allows several participants to share a screen at once.
Record meetings and then store them locally or on the cloud.
Filters, polls, hand raising, and reactions can be added to increase team participation.
Google Meet
Up to 100 people can join a video conference at once using Google Meet, formerly known as Hangouts. It was created by Google, one of the most reputable online businesses. A group of up to 100 people can be created for a maximum of one hour, or you can connect 1:1 with any person for 24 hours.
The key features of Google Meet are:
Screen sharing, Intuitive UI, and Live Captioning are present.
Helps in making secure calls.
Audio and Video Previews are available.
Integration with Google and Microsoft Apps.
Note-Taking Productivity Tools
We all need to take notes at meetings, while working on projects, or even just when writing down ideas, but frequently we are unable to do so due to a lack of resources. The top two note-taking apps for remote workers are Evernote and Notion.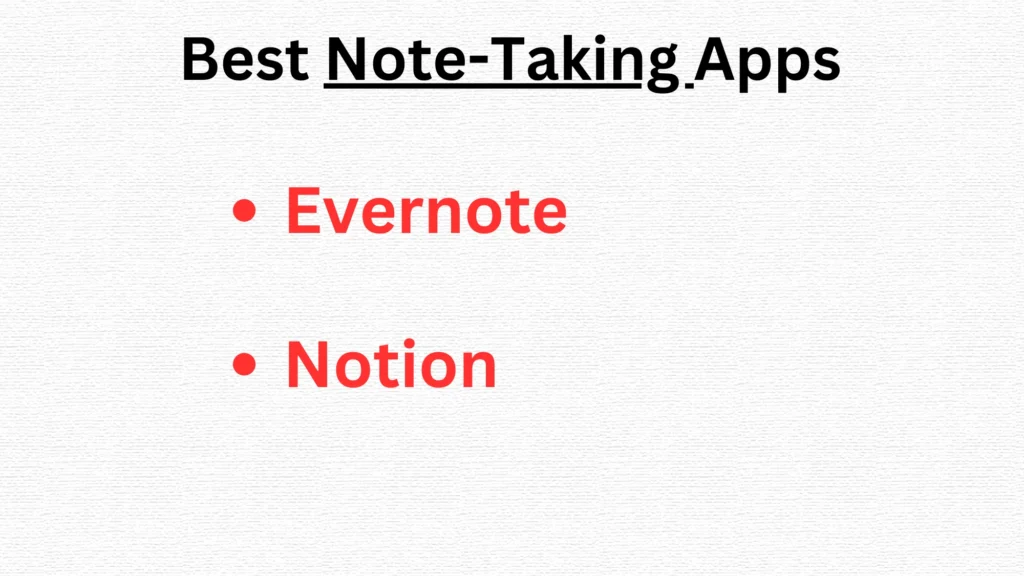 Evernote
You may record and arrange ideas, lists, projects, and other content with the aid of the note-taking and content management tool Evernote. You can also include audio, online clippings, and attachments with your digital note.
It is the first note-taking device that altered the practice of taking notes online. Evernote has a very clean user interface and allows you to directly sync and share your notes. Evernote key features are:
Sync and manage notes easily between devices.
Any website, online article, or PDF file can be saved with the web clipper.
Numerous editable templates for easier note-taking.
The ability to text-search in handwritten notes and pictures.
Notion
Named after the young person whose inventiveness has taken the internet by storm, It is the best-ever note-taking app. It features fantastic characters, UX, UI, and thousands of templates to select from. A highly entertaining note-taking app with fantastic integrations that you can use with your team.
Key features of the Notion are:
Interactive UI
 Great Community
 Thousands of Templates
Easily Shareable Content, API
To-Do list Tools
Now that we've primarily discussed team productivity tools let's move on to some personal productivity apps.
A to-do list is one of the necessities for every office worker. While some people like to record their duties on paper, there are plenty of digital alternatives if you prefer that method.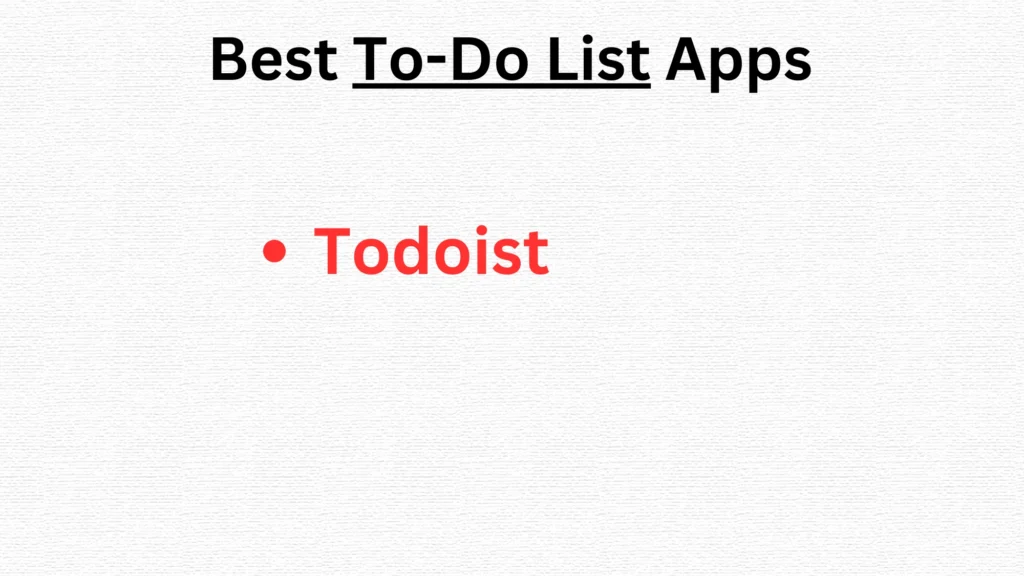 Todoist 
More than 15 million people rely on the straightforward to-do list app called Todoist to help them manage their activities from any device. Recurring tasks, reminders, sub-tasks, and more are present in this app. With a collaborative project, you can also share your to-do list with others.
The app also syncs across all of your devices so you can access your tasks from anywhere. You may establish priority levels and set due dates and reminders for each work, making it incredibly customized.
As users can set projects, assign them to specific individuals, and monitor their daily progress, this software is more impressive. You can divide work into smaller pieces and allocate each to a separate team or person within your business if it takes more than one step. The key features of Todoist are:
Create and arrange jobs quickly.
To identify the most crucial tasks, set priorities.
Notifies of work completion, new comments, and other events.
Graphs with different colors that show a project's daily and monthly development are present.
File Sharing and Collaboration Apps
The top two file-sharing tools are Google Workspace and Dropbox.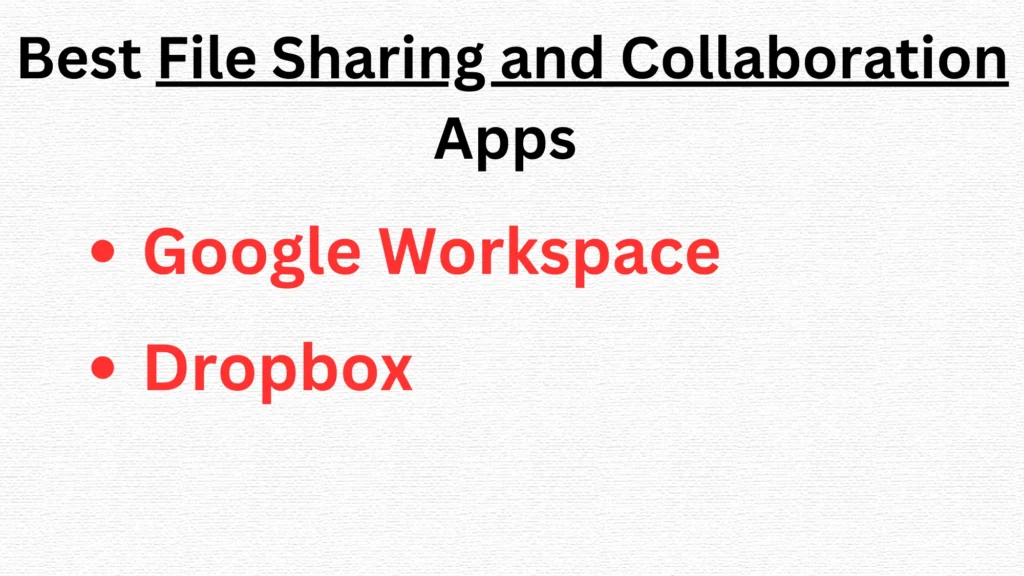 Google Workspace
The most well-known set of tools for file sharing is Google Workspace, formerly known as Google Suite. Since it already comes with a Gmail account (which you can get for free), you may give it a try if you want to. You can use your Google workplace as Google CRM by simply integrating it with your CRM program. Its key features are:
Use Gmail for business-related conversations, calls, and audio and video calls.
Use the Google Calendar app to arrange and control your everyday activities.
Use Google Sheets to manage and analyze crucial company data.
Docs, Sheets, and Slides present in google drive are a great space for content collaboration.
Dropbox
Google workspace is a popular place for programmers and developers to publish their work, but what is the alternative to google space work? Dropbox is a service that hosts files and is run by Dropbox Inc. It provides client software, personal cloud, cloud storage, and file synchronization.
You can save, sync, and share files online with Dropbox. Via the Dropbox website or mobile app, files may be accessed from any location on any device. When working remotely from a different place, such as a coffee shop or airport lounge, or when you are away from your computer, storing data that you require access to is helpful. Its key features are:
Stores data online.
Integration of file synchronization.
Accessible via a mobile app and the web.
Email Productivity Tools
Sometimes you may need an email tool to send quality emails to your clients or bosses. Drag is the best tool to send emails just by sitting at home.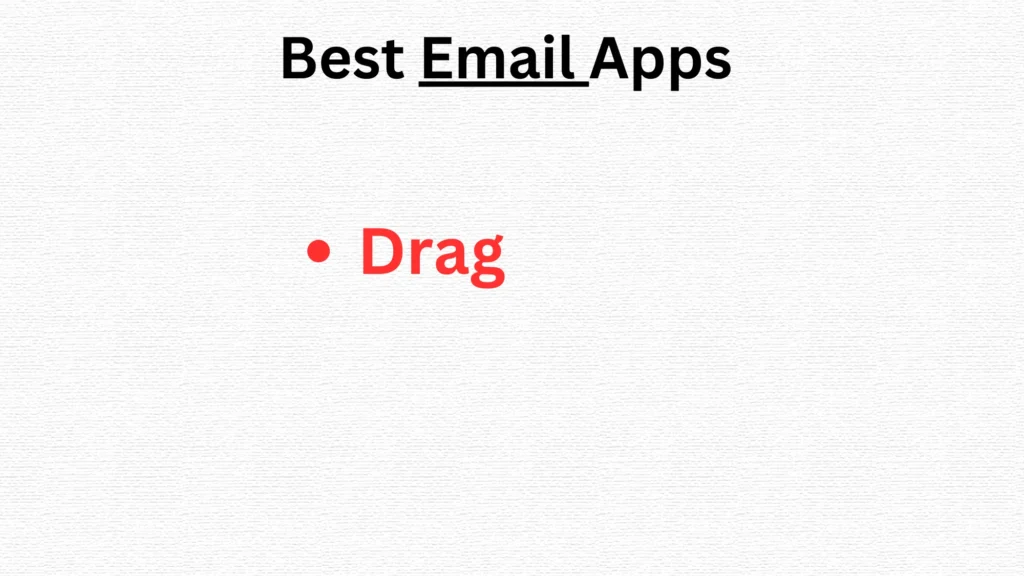 Drag
It makes sense to manage tasks from within your email client, as most tasks begin and end as emails. Drag precisely does that to your Email. You can manage your projects and emails in the same location, saving you the time it takes to switch between tabs and tools.
Its key Features are:
Assign emails to peers.
see email workflow across the board.
share inboxes with your team, make comments, chat, and upload files within email cards.
Concluding Thoughts
As a remote worker, several productivity apps can be useful to work more efficiently.
If you're looking for something to boost your productivity, decrease work-related distractions, avoid constantly communicating with others working on the same project, or help you stay organized and motivated as a remote worker, go for those productivity apps for remote work that I have discussed above!