Best Earbuds for Kids (2023)- Which Ones to Get?
Choosing the best earbuds for kids in 2023 is difficult because there are hundreds of them in the market.
That's why I spent days researching to choose the top ones for you. 
Fortunately, I successfully managed to shortlist the six best earbuds with the best features, design, and many other advantages.
I have also discussed which factors you should consider before placing an order later in the article. So, continue reading.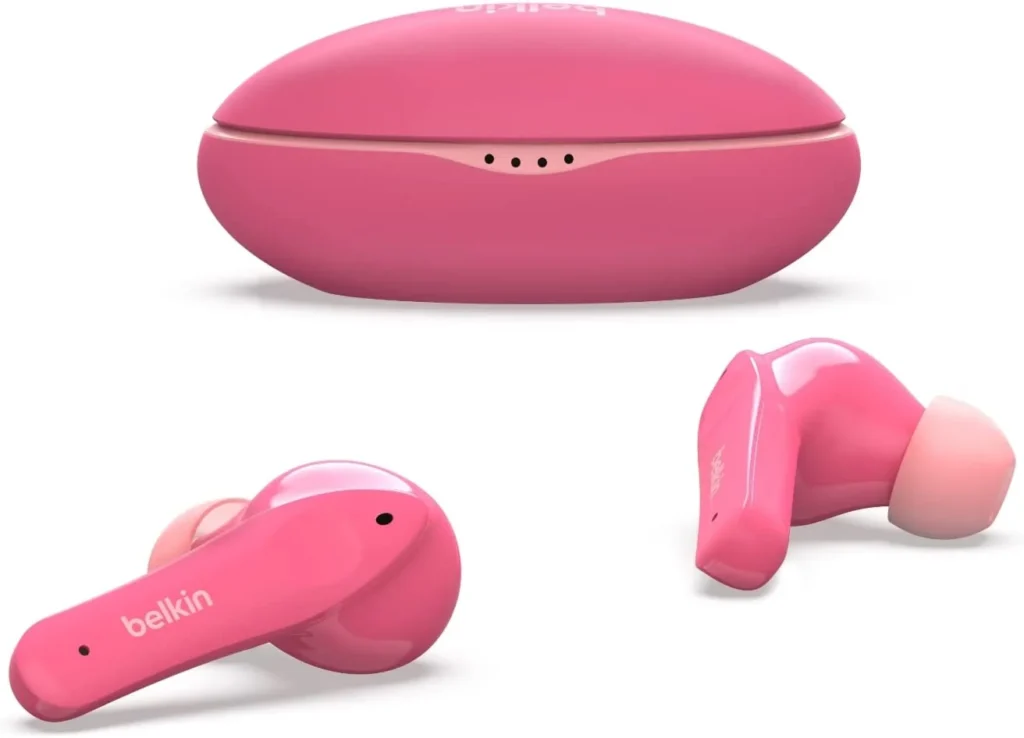 My Pick For You- Belkin Soundform Nano Earbuds
Belkin soundform is my first choice because of its kid-friendly features, like 85 dB volume limiting, soft tips, easy fitting, etc. It has excellent battery life and a long Bluetooth range, which makes listening time fun.
Pros
Cons
Now, check out the table of comparison of the earbuds discussed in this article.
Comparison Table of Best Earbuds for Kids
6 Best Earbuds for Kids You Can Get
Here are the top six earbuds for kids to make them happy. 
Key Features
Battery: 24 hours
Charging speed: Less than two hours
Bluetooth range: 30 feet
Bluetooth version: 5.0
Volume limit: 85 dB
Belkin soundform is my first choice because of its kid-friendly features, like 85 dB volume limiting, easy fitting, etc.
The earbuds come with silicone ear tips, which are soft and durable. They also sit in the small ears perfectly without causing any strain.
Belkin sends five ear tips in different sizes. Put each one on the buds and check whether it fits the ears. Remember- choosing the wrong one may impact the sound quality. 
In addition, Belkin kid earbuds' battery timing, charging speed, and Bluetooth range are exceptional and no less than any costly audio gadgets. These features make the listening time fun. 
Another great quality about Belkin earbuds is that they don't have any wires or buttons. So your little ones can use them without any difficulty. It has a built-in microphone too, which many listening devices for kids don't have. 
| | |
| --- | --- |
| Pros | Cons |
| Excellent audio quality | Available in pink color only. |
| Long Bluetooth range (30 feet) | Recommended for ages seven and up. |
| 24-hour battery time | |
| Can withstand spills | |
| 100 percent safe for kids | |
Key Features
Design: Ninja, watermelon, mermaid, and bulldog. 
Cable: 4 Feet
Volume limit: 85 dB
Warranty: 1 Year.
The Volcano is a perfect wired earbud for a toddler in my opinion. It comes in four funky designs (Ninja, watermelon, mermaid, and bulldog), which your kid will love.
In addition to how stylish it looks, it is also safe for the little ones. The volume does not exceed 85 dB, which means the sound cannot hurt their ear drums.
Moreover, I also found Volkano earbuds fitting to be amazing. It comes with three soft ear tips, which are designed for toddlers only. 
In addition, the Volkano earbuds cable is long- 4 feet long. A play/pause button is also there, which a kid can press to start/stop the music. 
Furthermore, Volkano also sends a mini zipper bag for earphones. Your kids can put legos, mini toys, and other stuff in it. 
That is why this earbud is a perfect gift for children.
| | |
| --- | --- |
| Pros | Cons |
| Awesome sound quality | Wire can get tangled |
| Snug fit | No built-in microphone |
| It comes with a mini bag. | |
| Safe for kids | |
| 1-year warranty | |
Key Features
Material: Plastic
Volume limit: 93 dB
Ear tips: 3 sizes
Connection: 3.5 mm jack
The thing I like about LilGadgets BestBuds is that they are lightweight. The design is cozy, and they fit perfectly too. That is why the sound coming from these buds is crystal clear, which will enhance the overall listening experience. 
LilGadgets are compatible with many portable devices, like iPads, Chromebooks, etc. You can connect it with any 3.5 mm audio jack device. 
Don't worry about the cable. It is tangle-free and durable. Lots of people have reviewed that LilGadgets stayed in exact shape for two years. 
The earbuds also come with a pouch. You can put them in it and travel to any place you like.
I also suggest you use Shareport and listen to the music with your kids. It will create great memories and you will also get the chance to know about your toddler's music preferences.
| | |
| --- | --- |
| Pros | Cons |
| Can connect with all 3.5 mm Jack | Not for children under 6 |
| It comes with a travel pouch | May not fit some six years old too. |
| Cable is tangle-free | |
| Durable | |
Key Features
Drivers: 6mm
Design: Ergonomic
Total Battery life: 24 hours
Connectivity: Wireless
Noise cancellation: Passive
LOL surprise wireless earbuds are an excellent choice for kids around ten. They look elegant and fashionable. The design is ergonomic and sleek, which your toddler will love.
Let's discuss connectivity. These versatile earbuds can pair well with almost every device you have in your homes. Your kid can use them for five hours straight in one go. With the case, the total battery life is around 24 hours.
When these earbuds shut down, don't worry. They can get fully charged up within an hour. In fact, a 45-minute charging can power the earbuds for five hours easily.
| | |
| --- | --- |
| Pros | Cons |
| Impressive audio quality | May face fitting issues |
| Super fast charging speed | |
| Fashionable design | |
| Fun packaging | |
| Perfect for kids aged 6 to 15. | |
Key Features
Driver: 13.44 mm dynamic 
Weight per bud: 3.8 gram
Noise cancellation: Yes
Waterproof: Yes
1More Comfobuds is full of features. Let's start with design. The earbuds are made by a Grammy-winning engineer who wanted kids to hear the song/audio as it is supposed to. That's why I had no doubt to include this audio device in this list of top earbuds for kids.
1More Comfobuds have an ergonomic and semi in-ear design that looks elegant. It means they don't get inserted too far in the canal. Still, these buds still and do not slip out when kids run.
In addition, using these earbuds is simple. They can connect with a device right after you open the case. 
There are two additional features which I like. 
The buds have sensors to save the battery.
They offer noise cancellation. The four ENC microphones allow you or your kids to have a call in a noisy environment. 
Furthermore, 1More is a reputable company that has shipped more than 38 million audio devices in over 25 countries. So, Comfobuds are both amazing and reliable.
| | |
| --- | --- |
| Pros | Cons |
| Instant pairing | Mic can sometimes cause issues. |
| IPX5 waterproof rating | |
| Sleek design | |
| Fits perfectly | |
| Mini noise canceling due to 4 Mics | |
Key Features
Battery life: 12 hours (with case)
Bluetooth version: 5.2
IP rating: IPX 4
Warranty: 1 year
SkullCandy Dime 2 is my pick for 12 years old. The reason is the buds offer supreme audio quality with rich details (which kids at the age prefers). Plus, the bass feels strong, while other frequencies feel perfect too.
SkullCandy also outdid its competition by adding a microphone in each bud. So, your young ones can have a call while wearing one earpiece. 
Furthermore, if the earpiece ever slips out, don't worry. You can use Tile technology to find out where it is. But it is unlikely to happen because these earbuds don't usually fall out easily. 
SkullCandy also offers a one-year warranty on Dime 2. If they suddenly stop working (which they usually don't), you can contact the company and get a free replacement.
| | |
| --- | --- |
| Pros | Cons |
| Impressive sound quality | Can cause some issues with the Chromebook. |
| Strong Bluetooth connectivity | |
| Water and sweat resistant | |
| Includes auto-connect/on feature | |
| Decent battery life | |
Also Read: Comparison between Jabra Elite 75t vs 85t and Which One is Better?
How I Choose These 6 Earbuds?
I spent more than a week researching features, customer reviews, volume limiting, and many other factors before choosing earbuds for the kids. 
During this time, I started with 50 earphones and narrowed it down to six. Let's delve into the main factors I considered:
Reviews
Customer or user reviews are experiences that people share after using the earbuds. Before choosing an audio device, I checked all the verified reviews on different platforms.
I discarded those audio gadgets with negative ratings and kept choosing those that received positive responses from the audience. 
Features
After filtering earbuds from reviews, I next checked the features. I selected those earbuds that offered top-notch features like high sound quality, noise cancellation, battery timing, connectivity, color choices, etc. 
Those earbuds that had limited advantages were discarded in this step. 
Volume Limiting
Kids' ears are not as strong as adults. Therefore, volume limiting is a crucial factor to consider. I shortlisted the earbuds that are safe for toddlers to use. 
The ones I discussed above do not hurt the ear drums or ear canal in any way (unless you choose the wrong ear tip size).
User-Friendly Controls
Lastly, I made a top six list by considering user-friendly controls. You can simply play or pause the music with one tap with the earbuds I have selected. 
So, due to these reasons, the six earbuds I have discussed above are top-quality, trustable, and provide the best user experience.
What to Look For Before Buying Earbuds for Kids?
Before you place an order of earbuds for your kids, there are three main things to consider to avoid frustration:
Budget
The main consideration factor before making a purchase is budget. If you don't have much money, go for wired earbuds because they are cheaper than wireless ones.
However, if you have a wide budget, go for wireless earbuds because they are trendy, and kids love them. 
Color Choices
You should check the available colors before placing an order. Choose the one that your toddler loves. Belkin is available in one color only, but the other earbuds offer choices. 
How Many You Want?
At a discounted rate, many companies offer different packages, like "packs of three" or "groups of five." If you want to buy earbuds for more than one kid, then I say you choose these packages to save money.  
So, consider these three factors and make an informed decision. 
Final Words
In this review, I discussed the top six earbuds for kids. They all are exceptional because of their sound quality and features. 
But the best one is Belkin Soundform Nano. 
It is because its audio quality is unmatched. You can connect with it with Android, iPhone, iPad, and many other devices to enjoy music, videos, and much more.
Furthermore, the battery life with the case is 4 hours (which is remarkable). The charging speed is also ultra-fast. 
Plus, it is wireless (which is the trend) and offers strong Bluetooth connectivity. 
So, gift Belkin Soundform to your kids and make them happy!
This Post contains affiliate links. Whenever you click an affiliate link, we may earn affiliate commission (No Extra Cost To You). Learn More.