Google Pixel 7 Review: Is This Mobile Worth Buying?
Google Pixel 7 is one of the most popular smartphones today because of its specifications and design. But it is better to read all about its features before making a decision about whether you would like to buy it or not.
It is because the features may be good enough for many (but not for all).
In this Google Pixel 7 review, I am explaining its specifications (both hardware and software), its design, and other important things. So, continue reading!
Google Pixel 7 Review- An Overview Table
Processor
Tensor G2 processor and Titan M2 coprocessor
Operating system
Android 13 
Display
6.3-inch screen
Camera
Rear camera: 50 MP
Ultra-wide camera: 12 MP
Front camera: 10.8MP
Battery
4355 mAh
RAM
8 GB LPDDR
Storage
128/256 GB
Google Pixel 7 Specifications- What Are They?
Google Pixel 7 has lots of features that make the user experience really enjoyable and satisfying. The main points of discussion are design, hardware, software, and other factors.
Design
Google Pixel 7 has a trendy and sleek design that looks really attractive. It is constructed of glass and metal that feels solid when held in hand. For comfort, Google has designed its back panel to be very rounded and plain.
It is available in a variety of colors, like black, white, and shades of green and blue, like Obsidian, Lemongrass, and Snow.
Pixel 7 also has a visor-style camera array. Lemongrass has a golden rim, and black and white have silver and anodized frames.
Dimensions and Weight
Pixel 7 has a height of 6.1 with 2.9 widths and a depth is 0.3 inches. It weighs 197 grams, which makes it easy to carry and use.
Water and Dust Resistant
The Google Pixel 7 is water and dust resistant, which makes it more durable and reliable. It can be drowned in water up to a depth of one and a half meters for about 30 minutes, as it has an IP68 rating (but don't test it).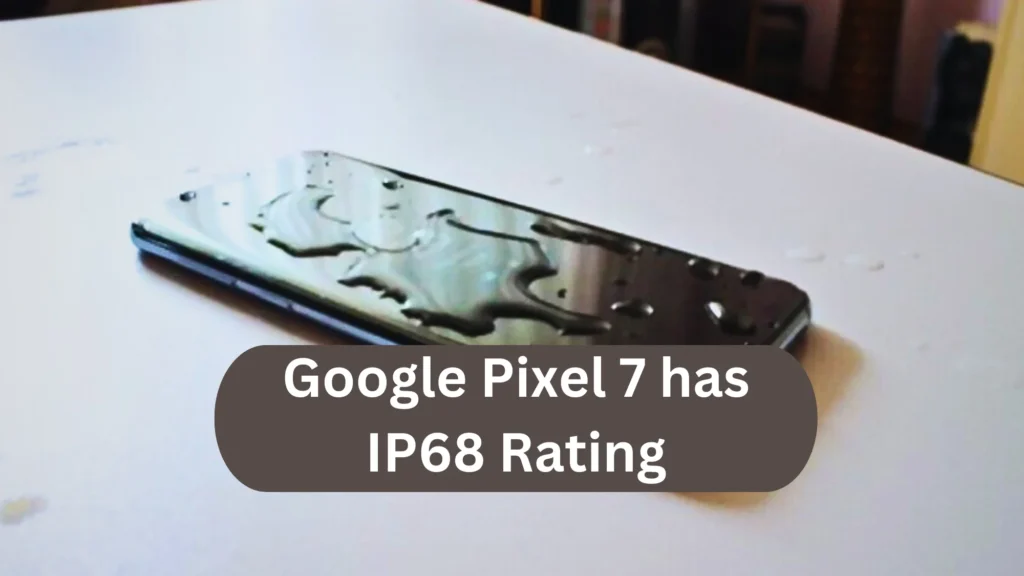 Screen and Display
The screen of the Google Pixel 7 is very clear and bright, which makes watching videos fun. It has a 6.4-inch screen with a resolution power of 2400 x 1080.
It also has a good-quality FHD + OLED 1080p display, due to which you can see exciting and sharp colors when you play games, browse the web, and watch videos.
Furthermore, it has scratch-resistant Corning Gorilla Glass Victus on its screen and edges. So you are less likely to damage the screen with your nails.
In addition, its back is covered with a matte aluminum frame. The best part about it is that it has a water-resistant and fingerprint-resistant coating.
Chipset
Google Pixel 7 has a Tensor G2 processor and Titan M2 coprocessor chipsets to enhance layers of security. These processor chipsets enhance the performance of this mobile, which makes it the best choice. Also, it has an extra chipset for security layers to keep your data safe.
Camera
The camera used in Google Pixel is exceptional. You can capture vibrant and detailed images in low light conditions due to the LDAF sensor.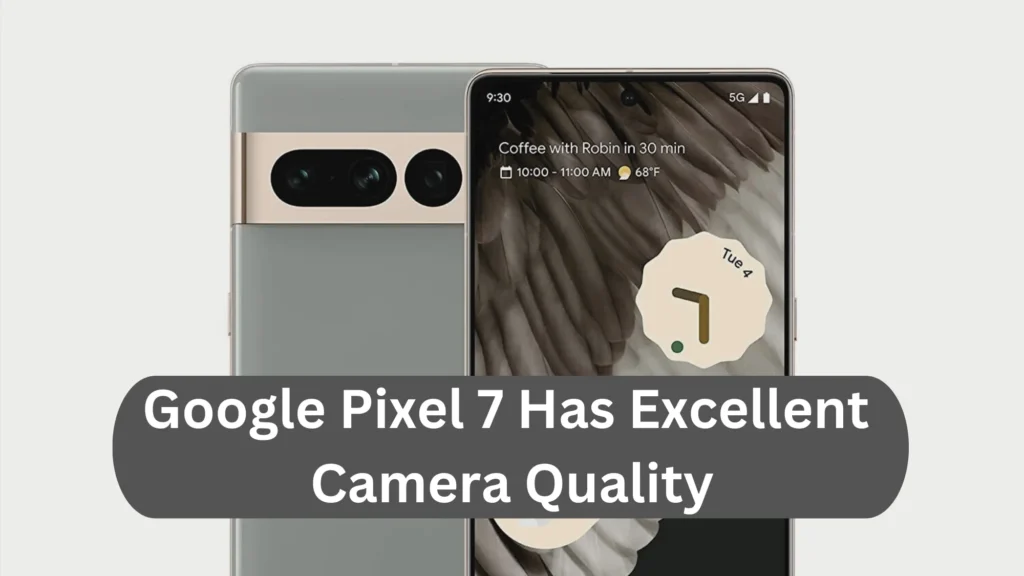 Google Pixel 7 camera details are:
The rear camera is 50 MP with a width of 1.2 μm and an aperture of ƒ/1.85.
The ultra-wide camera is 12 MP 
The front camera is 10.8MP
They enable you to capture wide-angle photos like group photos, landscapes, and more.
It also has a night sight mode, capturing striking photos in the dark. Its front camera is 10.8 MP with a pixel width of 1.22 μm and ƒ/2.2 aperture. Both these cameras can do 4K video recording with 30 and 60 FPS.
Battery and Charging
Google Pixel 7 offers a large battery of 4355 mAh, which is enough for a full day's use. You can also quickly charge this smartphone in 30 minutes as it supports fast charging. Note that you will have to use a 30W USB-C charger.
In addition, it also has a wireless charging feature that enables you to charge it without plugging it into the socket.
RAM and ROM
Google Pixel 7 has a storage capacity of 128/256 GB of UFS 3.1 (with different price ranges). Furthermore, it has 8 GB of LPDDR RAM, which makes the mobile's performance better as it has the help of a top-quality processor chipset as well.
Audio
Google Pixel has front-facing stereo speakers that have a sharp and clear sound. It also has a 3.5mm headphone jack with which you can connect your favorite headphones to your mobile.
Security and Privacy
Google Pixel 7 uses a Tensor security core Titan M2 coprocessor security chip to protect your privacy. It has a fingerprint sensor for authentication and a Face Recognition sensor for Face Unlock. Furthermore, you can also set a PIN or Password too.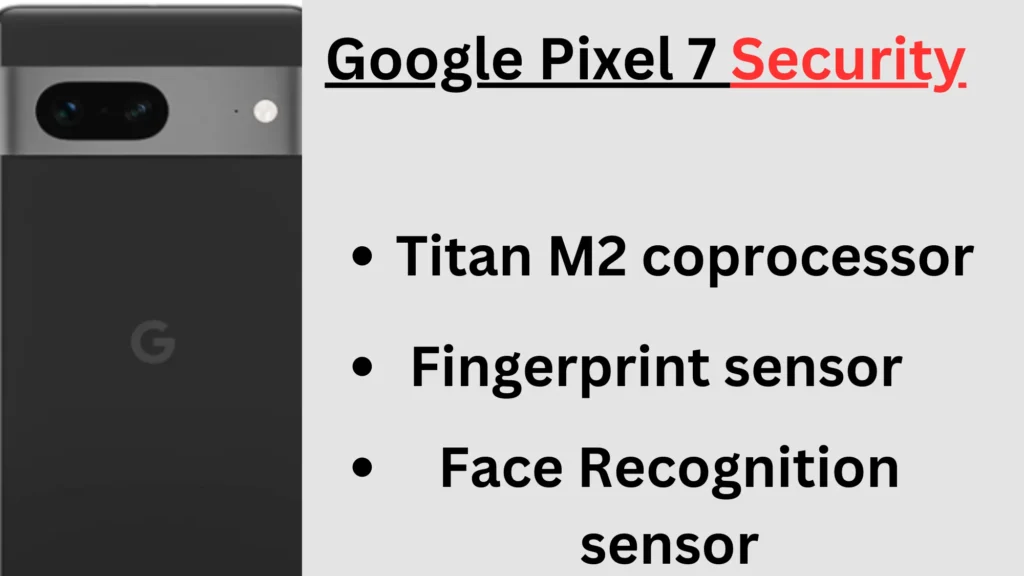 Google Assistant and Play Pass
Google Pixel 7 provides a virtual assistant in this operating system, enabling you to access/control your phone and perform tasks smoothly.
Google Play Pass is a subscription service by which you can access many premium apps and games without ads or in-app purchases.
Android OS and Connectivity
Google Pixel 7 runs on the Android 13 operating system. You can also easily update the new improvements from the settings.
When it comes to connectivity, Google Pixel 7 does not disappoint. It supports 5G and Bluetooth connectivity of 5.2. As a result, you will be able to enjoy fast internet and connect your wireless devices without facing issues.
So, now you know all the important details about Google Pixel 7. I personally liked this smartphone very much. If you like its specifications, then you should go for it.
Summary
In this Google Pixel 7 review, I discussed its notable features to help you decide whether this smartphone is good enough for you or not. It is indeed a really awesome mobile that offers lots of advantages.
However, whether it is worth it or not depends on personal preferences. I really enjoy using this smartphone because of its processors, storage, camera, and other specifications.
So, if you also think the benefits are valuable, go for Google Pixel 7 straight away.
See More: Google Pixel 6 vs. Google Pixel 7- Which Is Better?