Google Pixel 7 Review: Is This Mobile Worth Buying?
Google Pixel 7 is one of the most popular smartphones today because of its specifications and design. But it is better to read all about its features before making a decision about whether you would like to buy it or not.
It is because the features may be good enough for many (but not for all).
In this Google Pixel 7 review, I am explaining its specifications (both hardware and software), its design, and other important things. So, continue reading!
Google Pixel 7 Review- An Overview Table
Processor
Tensor G2 processor and Titan M2 coprocessor
Operating system
Android 13 
Display
6.3-inch screen
Camera
Rear camera: 50 MP
Ultra-wide camera: 12 MP
Front camera: 10.8MP
Battery
4355 mAh
RAM
8 GB LPDDR
Storage
128/256 GB
Google Pixel 7 Specifications- What Are They?
Google Pixel 7 has lots of features that make the user experience really enjoyable and satisfying. The main points of discussion are design, hardware, software, and other factors.
Design
Google Pixel 7 has a trendy and sleek design that looks really attractive. It is constructed of glass and metal that feels solid when held in hand. For comfort, Google has designed its back panel to be very rounded and plain.
It is available in a variety of colors, like black, white, and shades of green and blue, like Obsidian, Lemongrass, and Snow.
Pixel 7 also has a visor-style camera array. Lemongrass has a golden rim, and black and white have silver and anodized frames.
Dimensions and Weight
Pixel 7 has a height of 6.1 with 2.9 widths, and a depth is 0.3 inches. It weighs 197 grams, which makes it easy to carry and use.
Water and Dust Resistant
The Google Pixel 7 is water and dust resistant, which makes it more durable and reliable. It can be drowned in water up to a depth of one and a half meters for about 30 minutes, as it has an IP68 rating (but don't test it).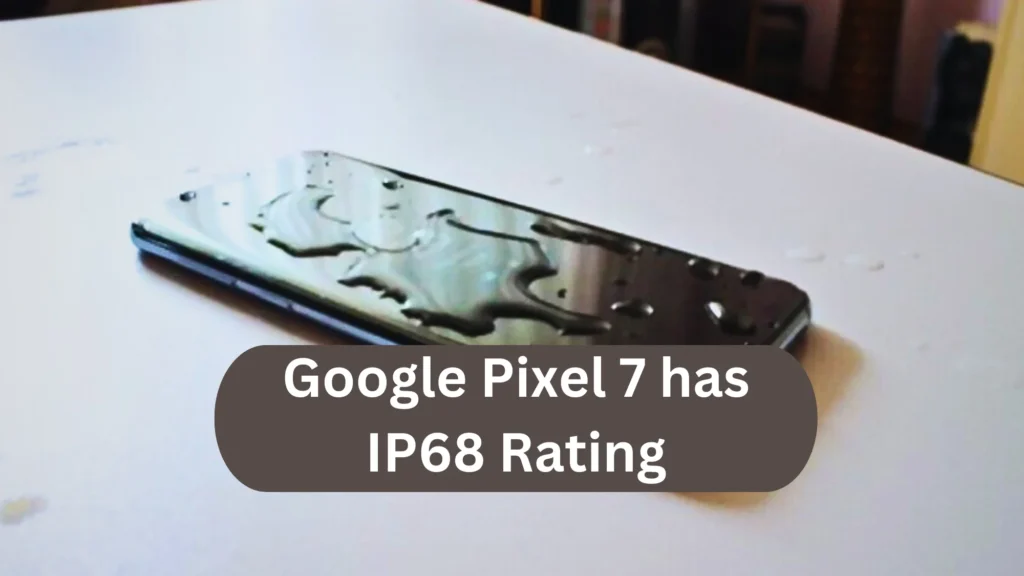 Screen and Display
The screen of the Google Pixel 7 is very clear and bright, which makes watching videos fun. It has a 6.4-inch screen with a resolution power of 2400 x 1080.
It also has a good-quality FHD + OLED 1080p display, due to which you can see exciting and sharp colors when you play games, browse the web, and watch videos.
Furthermore, it has scratch-resistant Corning Gorilla Glass Victus on its screen and edges. So you are less likely to damage the screen with your nails.
In addition, its back is covered with a matte aluminum frame. The best part about it is that it has a water-resistant and fingerprint-resistant coating.
Chipset
Google Pixel 7 has a Tensor G2 processor and Titan M2 coprocessor chipsets to enhance layers of security. These processor chipsets enhance the performance of this mobile, which makes it the best choice. Also, it has an extra chipset for security layers to keep your data safe.
Camera
The camera used in Google Pixel is exceptional. You can capture vibrant and detailed images in low light conditions due to the LDAF sensor.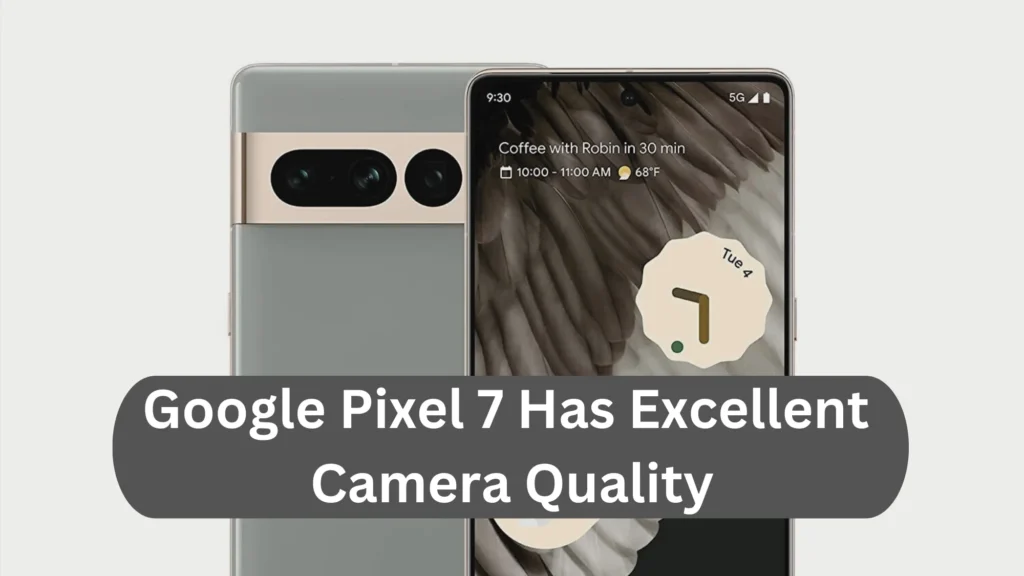 Google Pixel 7 camera details are as follows:
The rear camera is 50 MP with a width of 1.2 μm and an aperture of ƒ/1.85.
The ultra-wide camera is 12 MP. 
The front camera is 10.8MP.
They enable you to capture wide-angle photos like group photos, landscapes, and more.
It also has a night sight mode, capturing striking photos in the dark. Its front camera is 10.8 MP with a pixel width of 1.22 μm and ƒ/2.2 aperture. Both these cameras can do 4K video recording with 30 and 60 FPS.
Battery and Charging
Google Pixel 7 offers a large battery of 4355 mAh, which is enough for a full day's use. You can also quickly charge this smartphone in 30 minutes as it supports fast charging. Note that you will have to use a 30W USB-C charger.
In addition, it also has a wireless charging feature that enables you to charge it without plugging it into the socket.
RAM and ROM
Google Pixel 7 has a storage capacity of 128/256 GB of UFS 3.1 (with different price ranges). Furthermore, it has 8 GB of LPDDR RAM, which makes the mobile's performance better as it has the help of a top-quality processor chipset as well.
Audio
Google Pixel 7 is undoubtedly a treat for audiophiles. The dual stereo speakers on this device are an improvement on its predecessors. They produce louder and clearer sounds with no distortion whatsoever.
Whether you're catching up on your favorite podcast or video-calling a loved one, the speaker quality ensures crisp audio that enriches your experience.
Google has also taken a bold step and reintroduced the 3.5mm headphone jack in the Pixel 7. This decision is praised by wired headphone users. They can now plug in their favorite pair of headphones without needing an adapter.
When it comes to media playback, the Google Pixel 7 supports a range of audio formats, providing you with a flexible platform for your music. The popular ones are:
MP3
WAV
AAC
FLAC
OGG
MIDI
Long story short, Google Pixel 7 is for those seeking a top-notch multimedia experience on their phones.
Security and Privacy
The Google Pixel 7 takes security seriously, offering both a fingerprint sensor and a face unlock feature. Let's discuss finger sensors first.
A Pixel 7's fingerprint sensor is positioned comfortably on the back of the device. It is designed to allow you swift, one-touch access to your phone. The great thing is- the sensor is intuitive, fast, and rarely missing a beat. It even works whether you've just been for a swim or are out in the freezing cold.
Now, the face lock. It has infrared sensors to recognize you even in low light. Don't worry; the Pixel 7 doesn't keep you waiting. The face unlock is fast and often takes less than a second to authenticate.
As an extra layer of security, Google Pixel 7 utilizes the Titan M chip. This security chip protects your data even if the phone falls into the wrong hands. It works like a vault, securing your passwords, encryption keys, and app data.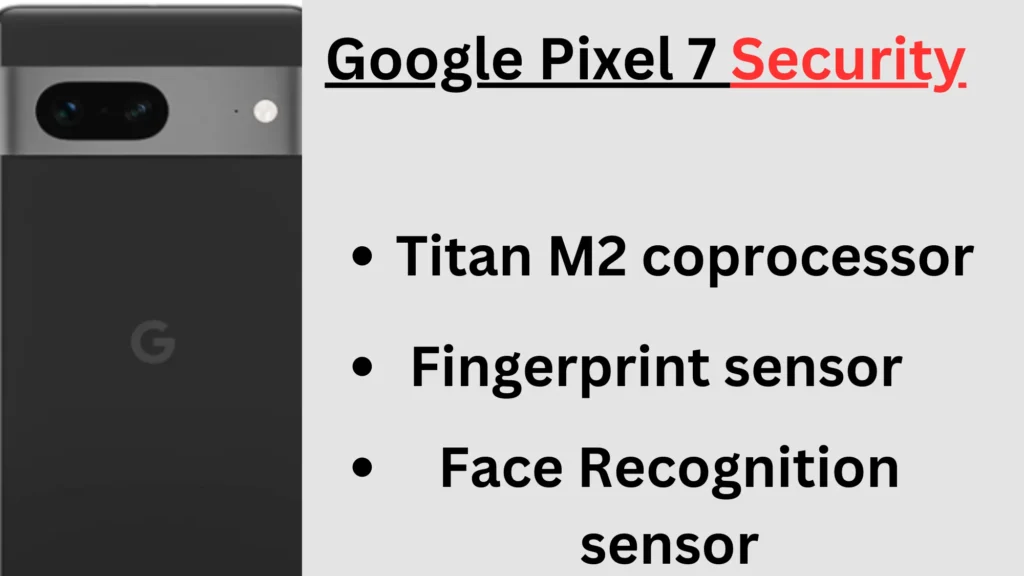 Google Assistant and Play Pass
Google Pixel 7 provides a virtual assistant in this operating system, enabling you to access/control your phone and perform tasks smoothly.
Google Play Pass is a subscription service by which you can access many premium apps and games without ads or in-app purchases.
Android OS
Google's commitment to delivering regular software updates sets the Pixel 7 apart from many of its competitors. The device comes with Android 13 (out of the box), but Google ensures its Pixel phones receive at least three years of major OS upgrades. It means you're assured of getting Android 14, 15, and 16.
Moreover, the company provides monthly security patches to help protect your device from the latest threats. But what makes the Pixel lineup stand out are the Pixel-exclusive features. These include Live Caption, Call Screen, and the Recorder app, which all receive regular updates and improvements.
Connectivity
When it comes to connectivity, Google Pixel 7 does not disappoint. It supports 5G and Bluetooth connectivity of 5.2. As a result, you will be able to enjoy fast internet and connect your wireless devices without facing issues.
So, now you know all the important details about Google Pixel 7. I personally liked this smartphone very much. If you like its specifications, then you should go for it.
Accessibility Features
Google has designed the Pixel 7 to be user-friendly for all (including people with disabilities). The range of accessibility options available is impressive:
Live Caption: It enables the auto-captions of the media playing on your device in real-time, making it more accessible for users with hearing impairments.
Voice Access: It allows users to control their phone entirely by voice (just like Siri).
Live Transcribe: It converts spoken words into written text. It's great for procrastinators like me who don't want to type messages after a few minutes of texting.
Sound Amplifier: It enhances the audio output of the device for a better listening experience.
Magnification: It helps users with visual impairments by magnifying the screen.
The Pixel 7's accessibility settings are easy to navigate too. You can even customize some and have a great time using this Google device.
Which Accessories and Add-Ons Should You Use With Google Pixel 7?
To get the most out of your Pixel 7, consider the following accessories:
Google Pixel Stand: It will help you handle the Pixel 7, especially during charging.
Pixel Buds A-Series: Google's own wireless earbuds pair perfectly with the Pixel 7 for a seamless audio experience.
Pixel 7 Case: Google offers a range of cases for the Pixel 7, providing protection and style.
USB-C to 3.5mm Adapter: If you prefer using your older headphones, this adapter enables you to do so.
Here's a table summarizing these accessories:
| | |
| --- | --- |
| Accessory | Description |
| Google Pixel Stand | A wireless charger that doubles as a dock |
| Pixel Buds A-Series | Google's own wireless earbuds |
| Pixel 7 Case | For protection and style |
| USB-C to 3.5mm Adapter | Allows the use of older headphones |
With these accessories, your Google Pixel 7 experience will be enhanced.
Google Pixel 7 vs Google Pixel 7 Pro- A Comparison
Google Pixel 7 and Pixel 7 Pro have been compared a lot. Features like battery timing, display, camera, etc., are analyzed, which helps in making a decision about whether you should get Pixel 7 or 7 Pro.
Design
Both the Google Pixel 7 and 7 Pro come with a sleek and modern design. The Pixel 7 retains a compact form factor, making it comfortable to hold and use with one hand.
On the other hand, the Pixel 7 Pro is slightly larger. So, people with small hands may find it difficult to hold 7 Pro.
Display
Speaking of displays, the Google Pixel 7 features a Full HD+ OLED screen, while the Pixel 7 Pro has a Quad HD+ OLED display.
Both provide vibrant colors and deep blacks, but the higher resolution on the Pixel 7 Pro does make images and text just a bit crisper.
If you love watching high-definition content or playing visually intensive games, the Pixel 7 Pro's display is a delight.
Performance
Both Pixel 7 and Pro phones are powered by the same chipset. It ensures smooth performance whether you're scrolling through social media, playing games, or multitasking.
But if you're looking for the best of the best, the Pixel 7 Pro takes the edge with more RAM.
Camera
The Pixel series is renowned for its cameras. Both feature the same primary and ultra-wide lenses, but the Pixel 7 Pro outshines with an additional telephoto lens. This additional lens allows for high-quality zoomed-in photos, a feature photographers will appreciate.
Battery
Thanks to the larger display and higher resolution, the Pixel 7 Pro's battery might drain slightly quicker under heavy use. However, both devices should comfortably last a full day under normal usage.
Price
The Pixel 7 Pro, with its additional features, comes with a higher price tag. If you're on a budget, then Pixel 7 is an automatic choice.
It delivers exceptional value for money, providing many of the Pro's features at a more affordable price.
Here's a quick overview:
| | | |
| --- | --- | --- |
| Feature | Google Pixel 7 | Google Pixel 7 Pro |
| Design | Compact and sleek | Larger and sleek |
| Display | Full HD+ OLED | Quad HD+ OLED |
| Performance | High performance with sufficient RAM | High performance with extra RAM |
| Camera | Primary and ultra-wide lenses | Primary, ultra-wide, and telephoto lenses |
| Battery | Long-lasting | Long-lasting, but slightly less than Pixel 7 due to a larger display |
| Price | More affordable | Higher, owing to advanced features |
In summary, both the Google Pixel 7 and Pixel 7 Pro are powerful devices, and the decision between the two ultimately comes down to your personal preferences. 
If you prefer a higher-resolution display, better camera, and slightly better performance, the Pixel 7 Pro is for you. However, if you're after a compact design, solid performance, and a lower price tag, the Pixel 7 would be a fantastic choice.
Factors to Consider before buying Google Pixel 7
Choosing a new phone is a big decision. That's why I always recommend considering these factors to ensure you get your hands on the right device:
Price
The first thing many of us look at when considering a new phone is the price. If the Google Pixel 7's price is under your budget (or you can afford it), then go for this mobile. If not, then I recommend getting other devices.
But remember- low-priced devices may not offer the same features as Google Pixel 7.
Operating System
As a Google product, the Pixel 7 runs on Android. If you're already using Android, you'll feel right at home with this mobile.
If you're switching from iOS, there may be a learning curve. Fortunately, the Android system is known for its user-friendly and customizable interface.
Performance
The Google Pixel 7 is a powerful device. The reason? Its top-of-the-line processor and ample RAM. 
So, if you frequently use your phone for intensive tasks like gaming or video editing, the Pixel 7 won't disappoint.
But if you want a smartphone for texting or calls only, then you can go for cheaper alternatives.
Camera
If you love photography or just enjoy taking occasional photos, the Pixel 7's camera won't disappoint. In my opinion, it is one of the best on the market (especially in its price range).
Battery Life
People usually check the battery timing of a mobile before buying it (and it's understandable). Luckily, the Google Pixel 7's battery life is designed to comfortably last a full day (but on moderate use).
If you spend a lot of time on screen-intensive tasks like gaming or streaming video, you might need to top up the battery before the day is out.
Software Updates and Support
You should always get a mobile that you are sure will receive updates in the future. This is crucial for security and other patches.
One of the Pixel series' standout features is its access to Android updates. Google ensures its devices receive regular updates, including new Android versions and monthly security patches. This keeps the device up-to-date and secure.
Availability of Accessories
Last but not least, consider the availability and cost of accessories. The Pixel series offers lots of accessories, including cases, screen protectors, wireless chargers, and headphones. If you plan to spend on accessories, make sure they're within your budget and readily available.
Summary
In this Google Pixel 7 review, I discussed its notable features to help you decide whether this smartphone is good enough for you or not. It is indeed a really awesome mobile that offers lots of advantages.
However, whether it is worth it or not depends on personal preferences. I really enjoy using this smartphone because of its processors, storage, camera, and other specifications.
So, if you also think the benefits are valuable, go for Google Pixel 7 straight away.
See More: Google Pixel 6 vs. Google Pixel 7- Which Is Better?