5 Loudest Headphones UK: Perfect For Audiophiles
Looking for the loudest headphones in the UK? You're in luck! I've spent years testing and reviewing dozens of headphones and have shortlisted the top picks for you. That's not it; I also read user reviews and analysed surveys to choose the best five headphones for you. 
Let's start!
Sony WH-1000XM4- My Pick For You
Sony WH-1000XM4 is the best and the loudest headphone you can purchase, in my opinion. The reason I picked it is that its sound quality doesn't "fluctuate" and stays top-notch. But there are many other benefits why I selected this one, which are:
Pros
Cons
Here's a comparison table of the headphones we've discussed in this review:
| | | | | | |
| --- | --- | --- | --- | --- | --- |
| Features | Sony WH-CH520 | Beats Solo3 Wireless | Sennheiser HD 450BT | Bose QuietComfort 45 | Sony WH-1000XM4 |
| Noise Cancellation | No | Yes | Yes | Adaptive Noise Cancellation | Top-notch Noise Cancellation |
| Battery Life | Up to 35 hours | Up to 40 hours | Up to 30 hours | Up to 24 hours | Up to 30 hours |
| Controls | On-Ear Controls | On-Ear Controls | Touch Controls | Touch Sensitive Controls | Touch Controls |
| Comfort | Plush Ear Cups | Cushioned Ear Cups | Padded Design | Plush Ear Cups | Comfy Fit |
| Special Features | Quick Charge | Apple W1 Chip for Quick Pairing | Voice Assistant Access | Speak-to-Chat | Speak-to-Chat, Pair with Two Devices |
Loudest Headphones UK: List of Best Ones
The loudest headphones that I have for the people of UK are:
Sony WH-1000XM4
Beats Solo 3 Headphones
Sony WH-CH520
Sennheiser's HD 450BT
Bose QuietComfort 45
Sony WH-1000XM4 Noise Cancelling Wireless Headphones 
Sony WH-1000XM4 is my top pick for you and there are many reasons why. This headphone uses 40 mm drivers and HD Noise Cancelling Processor QN1, which offers top-notch sound quality even if you increase the volume to 100. The noise cancellation can filter out background noises, so you won't get disturbed while listening to your favourite songs.
Top Features
Battery for Hours: Sony WH-1000XM4 can produce excellent sound quality for 30 hours easily.
DSEE Extreme technology: It supports super audio resolution at every frequency.
Fast Charging: 10 minute charging is enough to power this headphone for five hours.
Quick Connect: You can pair with two devices at once. The Bluetooth 5.0 ensures the connections don't get shaky.
Touch Controls: No more fumbling with buttons, just a quick swipe or tap.
Comfy Fit: Wear them for hours without a fuss.
Support Audio Assistants: You can use Alexa and Google assistants with this headphone (which is not possible in many).
| | |
| --- | --- |
| Pros | Cons |
| Noise cancellation that's simply brilliant | Those with small ears may feel it's slightly heavy |
| Lightweight | |
| The speak-to-chat feature is quite handy | |
| Seamless switching between two devices | |
| Fits like a dream | |
Customer Reviews
Sony WH-1000XM4 is in a league of its own. The noise cancellation is amazing, and the speak-to-chat feature feels futuristic.

Ella G.

I travel a lot, and these headphones are a lifesaver on flights. The noise cancellation is top-tier, and the battery life is commendable.

Nathan W.
Crystal clear sound and comfortable fit. The dual-device connectivity is a blessing, especially when switching between my phone and laptop. A worthy purchase!

Zara T.
Bottom Line: The Sony WH-1000XM4 is a showstopper. The battery, the features, the fit—it's all on point. So, if you're in the UK and you're thinking of treating yourself to some new headphones, these are seriously worth considering.
Beats Solo3 Wireless On-Ear Headphones 
Beats Solo3, a masterpiece from the renowned Beats brand, has stamped its mark in the UK audio scene. People usually wear it during workouts, but you can use it for any occasion. It's also a favourite among music enthusiasts, drummers, etc. I think it's also best for those who appreciate deep acoustics and style.
Top Features
Apple W1 Chip: Enables seamless setup and switching for Apple devices. However, it's equally good with Android and PCs, too.
High-Performance Sound: Produces clear acoustics with balanced tonality.
Extended Playtime: Up to 40 hours of battery life on a single charge.
Fast Fuel Charging: A mere 5 minutes of charging delivers 3 hours of playback.
Ergonomic Design: Cushioned ear cups that are adjustable to fit everyone (with any kind of ears).
Multi-Functional On-Ear Controls: Easy control of music, calls, and Siri activation.
| | |
| --- | --- |
| Pros | Cons |
| Sleek design | Higher price point compared to rivals |
| Up to 40 hours battery time | |
| Quick charging feature ensures less waiting time | |
| Apple W1 chip integration | |
| Designed for maximum comfort | |
Customer Reviews
Love the Beats Solo3 for workouts. The battery life is impressive, and syncing with my Apple devices is seamless. They are expensive, but the sound quality compensates for it.

Mark L.
Fantastic bass response! These headphones are stylish and offer superb sound clarity. The cushioned ear cups make prolonged listening enjoyable.

Sophia R.
I've been a fan of Beats, and the Solo3 didn't disappoint. Both quick charging and audio quality are pretty impressive.

Liam P.
Final Words: The Beats Solo3 has an unmatched sound clarity and sleek design. For those in the UK who don't mind investing a bit more for quality and brand value, this is the headphone to own.
Sony WH-CH520 Wireless Bluetooth Headphones
Sony WH-CH520 is one of the best Sony headphones audiophiles can buy. This model has been catching attention in the UK market because of its battery life, which is over 50 hours in total. Moreover, these headphones are ideal for those who want high-volume sound because of the  Digital Sound Enhancement Engine.
Top Features
 Digital Sound Enhancement Engine (DSEE): This feature will help you listen to high-frequency music without any distortion. You can even edit audio settings with it. 
Wireless Connectivity: Bluetooth capabilities make it easy to connect to any device.
Powerful Bass: Designed with enhanced bass technology for a deeper sound experience.
Extended Battery Life: Offers up to 50 hours of playtime on a single charge.
Swift Charge: Quick charge technology gives 90 minutes of playback with just 9 or 10 minutes of charging.
Lightweight Design: Comfort is guaranteed with its sleek, lightweight build.
Hands-Free Calling: Built-in microphone ensures clarity during calls.
| | |
| --- | --- |
| Pros | Cons |
| Long-lasting battery ensures extended playtime | Limited noise-cancellation capability |
| Quick charging feature for busy lifestyles | |
| Deep bass technology for enriched sound | |
| Multi-point connectivity | |
| App supported | |
Customer Reviews
The Sony WH-CH520 has been my daily driver for a few days. Battery life is exceptional, lasting an entire day with ease. For the price, it's quite the gem.

Jasmine T.

Good headphones for casual listening. The ear cups are comfortable, and there's no leakage. Decent for the price.

Rahul D.

I'm highly impressed with the quick charge feature. These headphones are great for my commutes. Excellent sound quality too!

Grace L.
Bottom line: The Sony WH-CH520 is an excellent choice for audiophiles who want a loud listening experience without compromising on quality. With its impressive features and comfortable design, it's perfect for those on-the-go. 
Sennheiser HD 450 BT Wireless Headphones
Sennheiser's HD 450BT has made waves in the UK audio market since it was launched. Most people are praising it for its look and comfortable design. Some have also lauded the battery life and other additional features.
Top Features
Active Noise Cancellation: Filters out background noise, offering a pure audio experience.
Strong Battery Life: Goes on and on with up to 30 hours of listening pleasure.
USB-C Fast Charging: Get back to your tunes quickly with rapid charge tech.
Customisable Sound: The Sennheiser app lets you tweak audio to your liking.
Foldable Design: Handy for travel or commuting, making them easy to stash away.
Voice Assistant Access: Quick tap access to Google Assistant or Siri.
| | |
| --- | --- |
| Pros | Cons |
| Active noise cancellation | May feel tight for some users |
| Impressive 30-hour battery life | |
| Personalise sound with the dedicated app | |
| Perfect for travel with its foldable feature | |
| Handy voice assistant at your fingertips | |
Customer Reviews
Sennheiser HD 450BT is a win! Stellar sound quality paired with a foldable design makes it a travel-friendly option. The touch controls took a bit to get used to but are intuitive once you get the hang of them.


Alan S.
Great sound balance and decent noise cancellation. Comfortable for extended listening. The touch controls can be sensitive, though.

Carlos V.
Good battery life, and the voice assistant access is a neat addition. They're a snug fit, which is great for noise isolation. Would recommend it!

Maya Z.
Summing Up: The Sennheiser HD 450BT is a solid pick for those in the UK who are serious about their music. The promise of pure, uninterrupted sound with its noise cancellation feature is a big plus. I think it's perfect for both everyday use or for those special quiet moments.
Bose QuietComfort 45 Headphones
Bose is no stranger to the audio game, especially in the UK. The QuietComfort 45, or QC45 (as the cool kids call it) is one of the best models launched by it. It's wireless and made with faux leather, which means it's durable and sweat resistant. Therefore, this headphone can stay good for years!
Top Features
Adaptive Noise Cancellation: Ensures you hear what you want to hear, not the hustle and bustle around you.
Brilliant Battery Life: We're talking up to 24 hours. That's basically a day's worth of tunes!
Quick Charging: In a hurry? 15 minutes of charging gives you around 3 hours of playback.
Stay Connected: Seamless pairing with your devices via Bluetooth.
Touch Sensitive Controls: Swipe or tap; controlling your music has never been this fun!
Comfort Redefined: Plush ear cups that feel like little clouds for your ears.
| | |
| --- | --- |
| Pros | Cons |
| Top-tier noise cancellation | Expensive |
| 24-hour battery life | |
| Touch controls | |
| Seriously comfy | |
| Effortless Bluetooth connectivity | |
Customer Reviews
The QuietComfort 45 is a game-changer. The noise cancellation is unmatched, creating a serene listening environment. Yes, they're pricey, but they're an investment in quality.

Owen P.
Bose never disappoints. These headphones provide crystal clear sound and a super comfortable fit. Long battery life is a bonus!

Rebecca Q.
Love the impressive noise cancellation and quick charging feature.

Evan M.
Wrapping Up: The Bose QuietComfort 45 is a real gem in the headphone world. Sure, it might make your wallet a bit lighter, but the listening experience is worth every penny. So, if you're all about immersing yourself in your favourite tunes and want to do so in style, then the QC45 is your go-to pal.
How To Safely Use Loud Headphones? (6 Tips For You)
It's vital to know the risks of listening to songs on high volumes. When you constantly blast tunes, you're putting strain on the tiny hair cells in your ears. Over time, they can get damaged, leading to hearing loss. But don't worry; you can use loud headphones without worry if you follow my tips.
Tip 1: The 60/60 Rule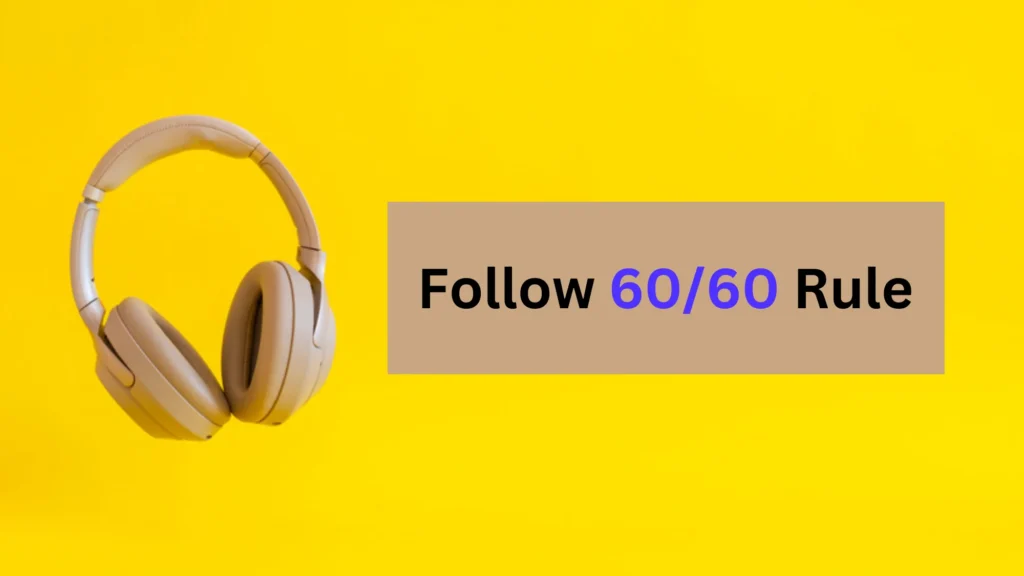 Limit your listening to just 60 minutes at a time and at only 60 percent of your device's maximum volume. After the hour's up, take a break. Your ears will thank you!
Tip 2: Invest in Noise-Cancelling Headphones
Here's the thing: if your headphones block out external noise, you won't feel the need to turn up the volume to max. That's why noise-cancelling headphones can be a game-changer. They allow you to keep the volume at a safe level, even in noisy environments like a busy street or a crowded bus.
Tip 3: Be Aware of Your Surroundings
This one's crucial, especially for those who love a jog with their favourite playlist. Always make sure you can hear ambient sounds. Being completely immersed might mean you miss important audio cues, like a honking car or someone trying to get your attention.
Tip 4: Go for Over-Ear Headphones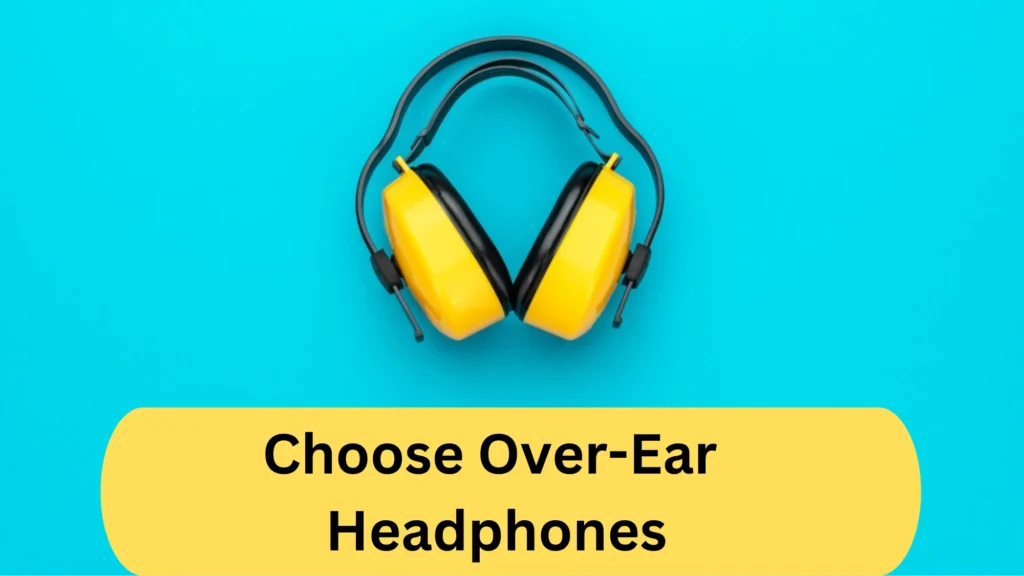 In-ear headphones, or earbuds, deliver sound directly into your ear canal. On the other hand, over-ear headphones distribute audio in a way that's less direct, which can help reduce the risk of hearing damage. Plus, many find them comfier for longer listening sessions!
Tip 5: Regularly Check Your Volume Levels
This might sound obvious, but it's easy to gradually increase the volume over time without realising. Every now and then, take a moment to check your volume settings. Try reducing it a bit and see if you can still enjoy your tunes.
Tip 6: Use Apps and Settings
Many smartphones come with built-in settings to protect your hearing. Some even alert you when your volume is at an unsafe level. There are also apps available that can monitor and regulate the sound levels for you.
Also Check Out: Best Headphones For Recording Vocals
Bottom Line: Final Thoughts
All-inclusive, I discussed five loudest headphones in the UK that you can buy without hesitation. Out of them, the best choice is Sony WH-1000XM4. It produces clear high volume sounds without any distortion/disturbance. The noise cancellation also improves the listening experience.
Moreover, the comfortable design lets you wear this headphone for hours. You won't face burden or pressure when you put on this audio device. So, go for it and enjoy loud music!
This post may contain affiliate links, Whenever you click an affiliate link, we may earn affiliate commission (No Extra Cost To You). Learn more.