Is Gateway a Good Laptop? (Which Models To Buy)
Before people buy Gateway laptops, they usually go online and search whether they are even good or not. It's smart! They can then get an idea about the best things about these laptops and suggestions about which models are the best.
My team and I also decided to help you with your query and decided to do some in-depth research and experimentation. We tried different Gateway laptops and got the answers you're looking for.
The thing is:
Gateway laptops are indeed good. They are durable, have a powerful processor, have a sleek design, and offer premium features at an affordable price. That's why most people have rated these laptops 5-star and praised their performances.
But wait; You must always get your hands on the best laptops if you want to enjoy using them. To know which Gateway laptops are superior, continue reading.
Is Gateway a Good Laptop? An In-Depth Look
Gateway laptops are one of the best ones you can use because of their premier processors, long battery life, speed, and many other features.
Let's delve further.
Laptops Can Last For Years
Gateway has built a reputation for delivering durable and reliable laptops. The use of high-quality materials in their construction can withstand any kind of pressure.
Furthermore, Gateway offers a standard one-year warranty on its laptops, which covers any manufacturing defects. You can even extend the warranty period by purchasing additional coverage (for peace of mind).
Long Battery Life
Nothing beats the convenience of a laptop with a long-lasting battery, right? The good news is a Gateway laptop is the first pick of those people who have to use a PC for hours.
Most Gateway models offer a battery life that can easily last through a regular workday- up to 10 hours on a single charge.
This means you can freely move around, attend online meetings, or study without constantly worrying about plugging in.
Affordability and Cost-Effectiveness
When you compare Gateway laptops to other brands with similar specifications, you will notice that they provide better value for money. They provide the same features as other expensive brands but at a really low cost.
Don't worry; this affordability doesn't come at the expense of quality.
Gateway ensures that each laptop maintains high standards in performance, build, and design.
Top-Notch Design
Gateway laptop is known for its sleek and modern design. The elegant lines and superior build quality add a touch of class and professionalism. That's why it is an ideal choice for both office and personal use.
Additionally, Gateway laptops come with high-resolution displays, providing vibrant colors and sharp details. Whether you are working on a complex design project or enjoying your favorite movie, the display quality enhances your experience.
Now, let's discuss connectivity. Most Gateway laptops have multiple USB ports, HDMI connections, and an SD card reader. This variety of ports makes it easier to connect external devices and transfer data.
Lastly, the keyboard and touchpad on Gateway laptops deserve special mention. The keys are well-spaced and comfortable to type on (which is not the case with many expensive laptops). Every Gateway laptop's touchpad is also responsive and supports multi-touch gestures.
Impressive Processor Performance
Remember that a laptop's performance is usually measured by its processor's efficiency. Fortunately, Gateway doesn't disappoint in this regard. Most Gateway models are equipped with an Intel Core i5 processor that delivers strong performance for multitasking and handling resource-intensive tasks.
Moreover, the high RAM ensures a smooth experience. That's why you can open multiple applications and tabs simultaneously without getting your screen stuck.
That's not it. People also use Gateway laptops for video editing. The powerful processor keeps up with your pace and provides the best user experience.
Gamers have high praises for Gateway Laptops too. They have lauded the graphic cards that provide smooth visuals and better frame rates. So, everyone loves Gateway laptops.
Positive User Reviews and Ratings
A major endorsement of Gateway's quality and reliability comes from the people who use these laptops daily.
On retail sites like Amazon and Best Buy, Gateway laptops have mostly received 5-star ratings, with many positive comments about their features and durability. These reviews serve as a testament to the brand's commitment to its users.
So, Gateway laptops are definitely good.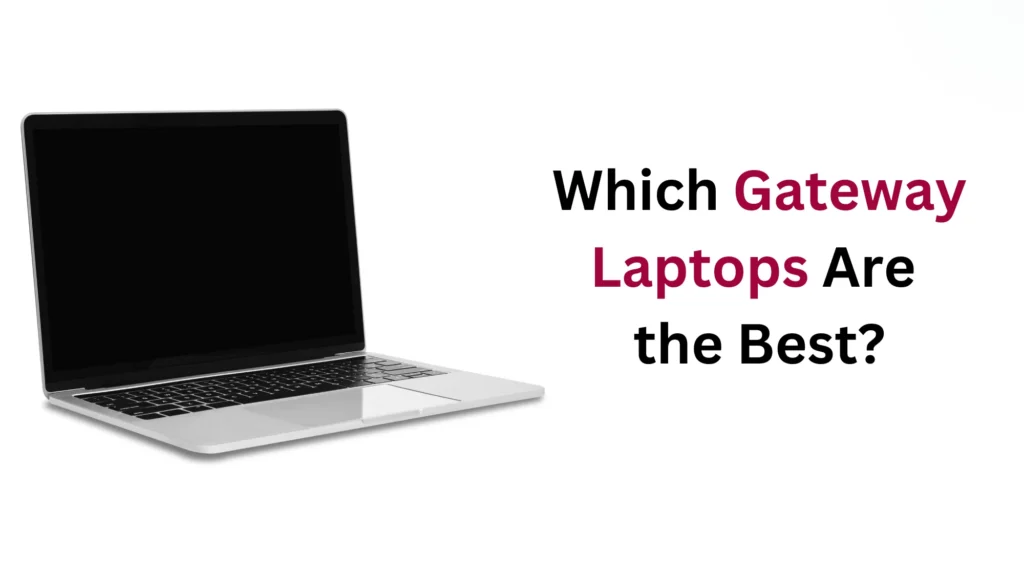 The Best Gateway Laptops You Should Buy- Top 2 Picks
Getting your hands on the best gateway laptop is super important. I and my team have used most of their laptops, so why already have an idea about which ones are the best? We researched more to find you the best picks. We analyzed the verified customer reviews, confirmed the specifications, and did a lot more.
Here are the top two Gateway laptops you can get right now.
Gateway 15.6″ FHD Laptop AMD Ryzen 7 3700U (Best for High-Performance Tasks)
Gateway 15.6″ FHD Laptop AMD Ryzen
(Best for High-Performance Tasks)
Gateway 15.6″ FHD Laptop AMD Ryzen is one of the best ones you can get. It has Radeon RX Vega 10 Graphics that can help you do any intensive tasks easily. It also provides stunning visuals because of its FHD display. Most people have called it perfect for any kind of environment/setting.
Pros
Cons
Let's discuss why we selected Gateway 15.6″ FHD Laptop AMD Ryzen 7 3700U. My team and I found its high-performance processor one of the best in the market. When we tested it, it allowed us to multitask efficiently. It can be beneficial for students juggling multiple assignments or professionals managing various projects.
Furthermore, the Full HD display enhances the viewing experience, whether it's for entertainment or work purposes.
Lastly, its lightweight and compact design makes it easy to carry. So, if you travel or study on the move, Gateway 15.6″ FHD Laptop AMD Ryzen 7 3700U is for you! 
Here's our rating.
Performance (9.5/10): Based on our first-hand experience, the AMD Ryzen 7 3700U processor provides a smooth and speedy performance. Multitasking is super easy, and it can handle demanding applications without hiccups.
Display Quality (10/10): When we tried this product, the Full HD display impressed us with its clarity and color accuracy. Whether you're browsing the web or watching movies, this laptop delivers a satisfying visual experience.
Portability (9/10): You can take Gateway 15.6″ FHD Laptop AMD Ryzen 7 3700U on trips, vacations, or simply inner-city traveling.
Value for Money (9.75/10): For its price point, this laptop offers a solid set of features and capabilities that suits everyone.
Overview: After trying out this product, we can conclude that the Gateway 15.6″ FHD Laptop AMD Ryzen 7 3700U is a high-performance machine that offers excellent value for money. Its Full HD display and lightweight design make it a versatile choice. If you are a professional or a student, you will not regret buying Gateway 15.6″ FHD Laptop AMD Ryzen 7 3700U.
Gateway Ultra Slim Notebook Intel i3-1115G4 (Best for Light Workloads and Travel)
Gateway Intel i3-1115G4 Laptop
(Best for Light Workloads and Travel)
Gateway Intel i3-1115G4 is ideal for routine work/light work. You can do your office work, college presentations, and almost every other thing on it. Most travelers also prefer it because it weighs less than 7 pounds. People choose it because it is affordable and still provides premium features.
Pros
Cons
The best quality of Gateway Ultra Slim Notebook Intel i3-1115G4 is that it is lightweight. That's why it makes it a reliable travel partner, great for students attending classes or professionals who are always on the move.
Gateway Ultra Slim Notebook Intel i3-1115G4 also has an efficient processor that can handle daily productivity tasks easily. Unlike many overrated laptops, it doesn't get jammed, stuck, or slow down in the middle of the day.
What's more? Well, the sleek and graceful design makes it an attractive addition to any workspace. We also highly rate its keyboard. It is comfortable and can facilitate long typing sessions. 
Plus, the Gateway Ultra Slim Notebook is budget-friendly.
Note that our research with the Gateway Ultra Slim Notebook in Grey Intel i3-1115G4 focused on four key criteria: Performance, Portability, Design, and Value for Money.
Performance (9.5/10): After conducting experiments with it, the Intel i3-1115G4 processor delivered an efficient performance for everyday tasks like browsing, document editing, and media consumption. However, for more resource-intensive applications, the laptop might not hold up as well.
Portability (9/10): Through our practical knowledge, we found this laptop to be ultra-lightweight and compact, making it an excellent travel companion. Its slim profile fits easily into backpacks and briefcases, ideal for on-the-go usage.
Design (9/10): Based on our observations, the Gateway Ultra Slim Notebook's minimalist grey design gives it a sleek and modern look. The keyboard buttons are comfortable, and the touchpad is responsive.
Value for Money (10/10): We determined through our tests that, considering its price point, the laptop offers an admirable balance of performance and portability, making it a worthy investment for budget-conscious consumers.
Overview: As per our expertise, the Gateway Ultra Slim Notebook in Grey Intel i3-1115G4 offers a solid balance of performance, portability, and value for money. It's ideal for those seeking a laptop for everyday productivity tasks and frequent traveling.
Here's a comparison table highlighting the features of both Gateway laptops discussed:
| | | |
| --- | --- | --- |
| Features | Gateway 15.6″ FHD Laptop AMD Ryzen 7 3700U | Gateway Ultra Slim Notebook in Grey Intel i3-1115G4 |
| Processor | AMD Ryzen 7 3700U | Intel i3-1115G4 |
| Display | 15.6″ FHD (1920×1080) | Ultra Slim Notebook Display |
| Design | Durable and Lightweight | Compact and Slim |
| Portability | Moderate | High |
| Performance Score (out of 10) | 9.5 | 9.5 |
| Portability Score (out of 10) | 10 | 9 |
| Design Score (out of 10) | 9 | 9 |
| Value for Money Score (out of 10) | 9.75 | 10 |
| Best Suited For | High-performance tasks | Light workloads and travel |
Also Read: ASUS vs. HP: Which Laptop Brand Is the Best?
This Post contains affiliate links. Whenever you click an affiliate link, we may earn an affiliate commission (No Extra Cost To You). Learn More.
Final Say
In conclusion, Gateway laptops are, without a doubt, exceptional. They are a perfect combination of performance, portability, and value for money.
Trust our research and insights – Gateway laptops have much to offer in terms of quality and cost-effectiveness.