Loudest Headphones For Working Out: 5 Best Picks
I've never really liked gym music. That's why I prefer to wear headphones and listen to my own playlist. But in the gym, you must wear loudest headphones to focus on the workout. Low-quality audio devices won't stop the gym music from entering your ears.
But the problem is that most loud headphones are not good, either. The sound fluctuates and they fail to deliver the top-notch sound quality.
But worry no more!
After months of researching and trying different products, I have picked the best and most loudest headphones for working out.
Every shortlisted audio device is of high-quality and well-liked by fitness enthusiasts. Let's have a look:
| | | | | | |
| --- | --- | --- | --- | --- | --- |
| Features | Sony WH-1000XM5 | Audio Technica ATH- M50xBT2DS | Sony WH-CH720NL (Best Budget) | Bose QuietComfort 45 | Soundcore Anker Life Q20 |
| Sound Quality | High-Resolution | Studio-grade | Good for the price | Crystal Clear | Hi-Res Audio |
| Noise Cancellation | Advanced NC | Passive | Basic NC | Advanced NC | Hybrid Active NC |
| Battery Life | Up to 30 hours | Up to 40 hours | Up to 35 hours | Up to 20 hours | Up to 40 hours |
| Quick Charge | Yes | Yes | Yes | Yes | No |
| Sweat Resistance | No | No | No | Yes | No |
| Connectivity | Bluetooth 5.2 | Bluetooth 5.2 | Bluetooth 4.2 | Bluetooth 5.1 | Bluetooth 5.0 |
| Foldable Design | Yes | Yes | Yes | Yes | Yes |
| Weight | 250g | 310g | 223g | 240g | 263g |
| Price Range | High-end | Mid-range | Budget | High-end | Mid-range |
| Warranty | 1 Year | 1 Year | 1 Year | 2 Years | 18 Months |
Sony WH-1000XM5- Best Overall (My Pick for You)
When you're working out, you want headphones that stay put, feel good, and of course, sound great. Sony brings out the WH-1000XM5, a pair that claims to tick all these boxes. Let's get to know them better.
Key Features of Sony WH-1000XM5
Great Sound: These headphones have a strong sound that makes your music pop, helping you push through those tough workout moments.
Block Outside Noise: They come with a feature that keeps out other noises, so it's just you and your music.
They Feel Good: They fit well, are light, and won't hurt your ears even after a long time.
Tough and Ready: If you accidentally put some weights on these headphones, don't panic. They're made to handle some roughness.
Battery Life: Charge them fast and they'll play your music for a long time (for up to 30 hours).
Stay Connected: They use the newest Bluetooth to connect, so your music doesn't stop and start.
Easy to Use: The controls on the headphones are easy to find and use while you're on the move.
Pros and Cons of Sony WH-1000XM5
| | |
| --- | --- |
| Good Things | Not So Good Thing |
| Clear, strong sound | Might be too costly for some people |
| Keeps out other noises | |
| Comfortable for long wear | |
| Made to last, even if dropped a few times | |
| Good battery that charges quickly | |
| No problems with music stopping and starting | |
| Simple controls that are easy to use | |
Wrapping Up: Sony's WH-1000XM5 headphones seem to have what most of us want. They're good for long workouts, they sound great, and they're made to last. Yes, they might be a bit pricey, but sometimes, good things come at a cost.
Audio Technica ATH: Best Over Ear Headphones For Working Out
The Audio Technica ATH-M50xBT2DS, aptly named 'Deep Sea', promises an immersive experience. People love it because of it elegant design and affordable price.
Key Features of Audio Technica ATH-M50xBT2DS
Clear Sound: The Deep Sea promises sound that's clean, clear, and deep. It's all about quality beats for your ears.
Wireless Freedom: No more tangling wires during workouts. This is pure wireless freedom at its best.
Comfort: Long hours of wear? No issue. The design is friendly to your ears and head.
Sturdy Build: Life happens, and sometimes we drop things. But these headphones can handle life's little mishaps.
Battery Life: Quick charging, long playing. Your music won't stop, neither should your headphones.
Always Connected: The latest Bluetooth tech makes sure your connection is always smooth.
User-Friendly: No need to fiddle around. Easy controls make everything a breeze.
Pros and Cons of Audio Technica ATH
| | |
| --- | --- |
| Good Points | Thing to Consider |
| Amazing sound clarity | Might be a tad heavy for some |
| Wire-free listening | |
| Fits well and feels good | |
| Tough and reliable | |
| Charges quickly, plays for long | |
| Smooth music connection | |
| Controls that don't confuse | |
To Conclude: With the Audio Technica ATH-M50xBT2DS, it seems you're in for a treat. From its sound to its build, it's got lots going for it. If you want a reliable headphone that delivers, the 'Deep Sea' might just be your next best friend.
Sony WH-CH720NL- Best Budget
Everyone loves a good bargain, especially when it doesn't compromise on quality. That's where Sony steps in with the WH-CH720NL. Touted as the best budget option for those who seek premium sound without the hefty price tag, this headphone is turning heads and tuning ears. Let's dive in to understand what makes it a wallet-friendly winner.
Key Features of Sony WH-CH720NL
Stellar Sound: At its core, the WH-CH720NL offers a sound quality that's both rich and clear. Even on a budget, you're not sacrificing the audio experience.
Noise Canceling: A feature often reserved for pricier models, its noise canceling capability ensures your music remains uninterrupted, no matter where you are.
Lightweight Design: Crafted to be both durable and lightweight, you can wear them for hours without feeling a pinch.
Swift Connectivity: No fumbling with connections. The headphones quickly sync up, letting you dive into your playlists without a wait.
Long Battery Life: Few things are as annoying as headphones dying mid-jam. With the WH-CH720NL, you're ensured hours of uninterrupted tunes.
Easy-to-Reach Controls: Whether you want to skip a track or adjust the volume, the easy controls mean you don't have to reach for your device.
Voice Assistant Feature: Need to make a call or check the weather? Do it hands-free, thanks to its built-in voice assistant capability.
Swift Charge: Low on battery but short on time? A quick charge gives you hours of playback, so you're always ready to roll.
Foldable Design: Easy to pack and carry, these headphones are your ideal travel companion.
Pros and Cons of Sony WH-CH720NL
| | |
| --- | --- |
| Good Points | Thing to Consider |
| Great sound on a budget | Bass might be light for some |
| Effective noise canceling | |
| Lightweight and comfy | |
| Quick and easy connectivity | |
| Battery that lasts | |
| Handy voice assistant | |
| Fast charging | |
In Conclusion: Sony WH-CH720NL seems to strike a balance that's rare to find: affordability without cutting corners on quality. Whether you're a student, a budget-conscious music lover, or someone looking for a second pair, this could be the ideal pick.
Bose QuietComfort 45: Best Headphones for Working Out and Sweating
When it comes to getting the most out of your workouts, the right music can make all the difference. Enter the Bose QuietComfort 45 headphones. Known for their superb audio quality, Bose has taken things up a notch with these headphones. Whether you're hitting the gym, jogging in the park, or doing yoga at home, these headphones promise to deliver an unmatched auditory experience, ensuring you remain motivated and energized throughout your session.
Key Features of Bose QuietComfort45
Dynamic Sound Quality: Experience crystal clear audio and powerful bass that makes your favorite tracks come alive.
Noise Canceling: Eliminate distractions with advanced noise cancellation, letting you focus solely on your workout.
Comfort Fit: Designed with cushioned ear pads and an adjustable headband, ensuring a comfortable fit even during long workouts.
Water and Sweat Resistant: Built to withstand intense workouts, ensuring longevity and durability.
Long Battery Life: Enjoy up to 20 hours of non-stop music on a single charge.
Quick Charge Feature: A 15-minute charge gives you an additional 3 hours of playback time.
Easy Connectivity: Seamless Bluetooth connectivity ensures you're always connected, no matter where you are.
Pros and Cons of Bose QuietComfort45
| | |
| --- | --- |
| Pros | Cons |
| Superb sound quality for an immersive experience | Only available in a limited color range |
| Advanced noise cancellation technology | |
| Comfortable fit for all head sizes | |
| Resistant to both water and sweat | |
| Impressive long-lasting battery life | |
| Quick charge feature for on-the-go convenience | |
Conclusion: The Bose QuietComfort 45 headphones are undoubtedly a game-changer for fitness enthusiasts. They are perfect combinations of exceptional sound quality, comfort, and durability. The only hiccup might be the limited color options, but when you consider the premium performance, that's a small trade-off.
Soundcore Anker Life Q20: One of the Best Gym Headphones
Want best wireless headphones for gym? The Soundcore Anker Life Q20 headphones step in just there. Brought to you by Anker, a trusted name in the audio industry, these headphones offer a blend of style, substance, and durability. Whether you're breaking a sweat at the gym, taking a brisk morning walk, or simply chilling post-workout, the Life Q20 ensures you have the perfect beats accompanying you.
Key Features of Soundcore Anker Life Q20
Hi-Res Audio: Dive into an authentic sound experience with clarity and depth that brings every track to life.
Hybrid Active Noise Cancellation: Blocks out ambient sounds so you can immerse yourself in music without distractions.
Memory Foam Ear Cups: Ensures utmost comfort even during prolonged usage.
40-Hour Playtime: With one full charge, groove to your favorite beats for extended periods without any interruptions.
BassUp Technology: Enhanced bass at the touch of a button for those who like it heavy.
Foldable Design: Portable and easy to store, making it a perfect travel companion.
Bluetooth 5.0: Offers wider range and more stable connectivity.
Pros and Cons of Soundcore Anker Life Q20
| | |
| --- | --- |
| Pros | Cons |
| Stunning Hi-Res audio for a pristine sound | Might feel a bit bulky for some |
| Effective Hybrid Active Noise Cancellation | |
| Ultra-comfortable with memory foam ear cups | |
| Generous 40-hour battery life | |
| BassUp technology for enhanced beats | |
| Compact with foldable design | |
Conclusion: The Soundcore Anker Life Q20 headphones are a brilliant pick for those looking to enhance their workout sessions with clear, dynamic sound. Their impressive feature list, topped with the brand's reputation, makes it a compelling choice for both music lovers and fitness enthusiasts.
Also Read: 5 Loudest Headphones in the UK
Factors To Consider When Purchasing Loudest Headphones for Workout?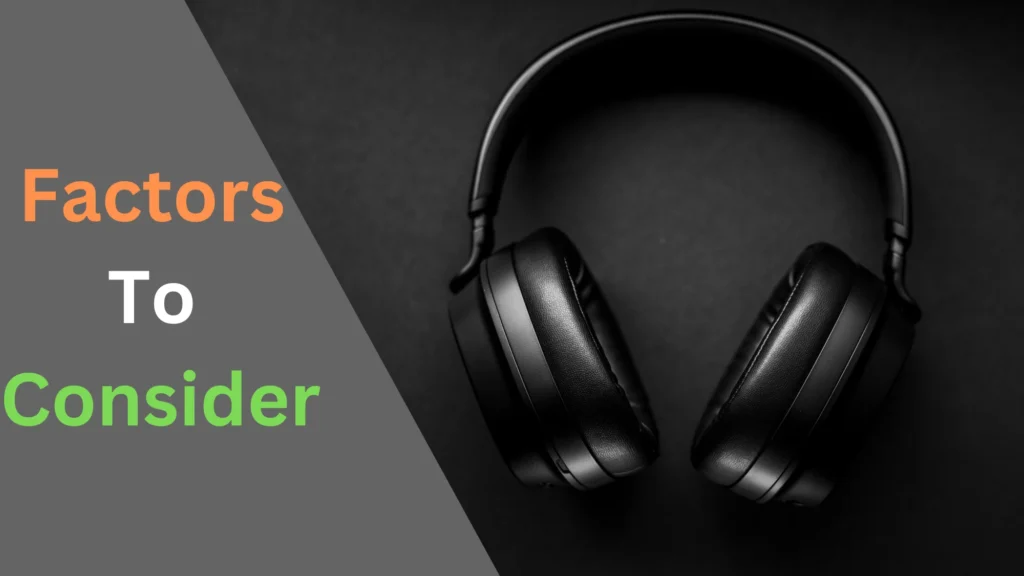 Music can be the ultimate motivator when it comes to working out. It can push you to run that extra mile, lift that additional weight, or hold that plank just a little longer. To ensure that you get the best experience while breaking a sweat, it's crucial to choose the right headphones.
But with lots of choices available, how do you decide? Below, I've broken down the key factors you should consider.
Sound Quality
The primary function of any headphone is to deliver sound. When it comes to workout headphones, you'd want them to be loud enough to drown out ambient gym noises, but also clear enough to make out every lyric and beat.
Bass: For many, a robust bass can be motivating. Look for headphones that don't just offer loud bass but also clear, distortion-free bass.
Treble: It should be sharp but not piercing. The highs should be crisp without sounding shrill.
Volume: The headphones should be loud without compromising on the clarity. Remember, loud doesn't always mean better.
Noise Isolation or Cancellation
The hum of treadmills, clinking of weights, or even chatter can be distracting.
Noise Isolation: This feature physically blocks external noise. It's like sealing your ears using earplugs. The design and fit of the ear cups or earbuds play a crucial role in this.
Noise Cancellation: This is a technology where the headphones produce sound waves that counteract external noise, essentially "canceling" them out. It's especially useful in very noisy environments.
Sweat Resistance
When you're working out, you're bound to sweat. Sweat can damage the headphones if they are not designed to handle moisture.
IP Rating: Look for headphones with an IP rating. IPX4 or higher is generally considered good for workout headphones. This rating means the headphones are water and sweat-resistant to some degree.
Material: Some materials can withstand moisture better than others. Look for headphones made with non-corrosive materials.
Battery Life
Nothing can be more frustrating than your headphones dying in the middle of a workout.
Duration: A good pair of workout headphones should last for the entirety of your workout at least. Generally, 8-10 hours is considered decent battery life.
Quick Charge: Some headphones offer a quick charge feature, where a short charging time can provide hours of playback.
Connectivity
In this age of wireless technology, tangled cords should be the least of your concerns during a workout.
Bluetooth: Most wireless headphones use Bluetooth to connect. Ensure it offers stable connectivity without frequent dropouts.
Range: Check the range of connectivity. You don't want to carry your device everywhere you go in the gym.
Compatibility
Your headphones should be compatible with the device you use, be it a smartphone, tablet, iPod, or a smartwatch.
OS Compatibility: Whether you use Android, iOS, or any other OS, your headphones should connect seamlessly.
App Features: Some headphones come with dedicated apps that have features like custom equalizers. Ensure that these apps are compatible with your device.
Brand and Reviews
The brand can give you an idea about the quality and reliability of a product. While not always true, established brands tend to have better quality control.
Reputation: Brands with a good reputation are generally more trustworthy.
Reviews: Always check user reviews. They can provide insights into real-world usage and issues.
Price
Your budget is, of course, a significant determinant. But remember, the most expensive isn't always the best, and the cheapest may not always offer value for money.
Value for Money: Look for headphones that offer the best features in your budget range.
Avoid Gimmicks: Don't pay extra for features that you may never use.
See More: Best Headphones for Recording Vocals
Warranty
A warranty can be indicative of the manufacturer's confidence in the product. It also ensures you're covered if something goes wrong.
Duration: A longer warranty period is always better.
Coverage: Ensure that the warranty covers not just manufacturer defects but also minor accidents that might occur during workouts.
Return Policy
Sometimes, despite your best research, a product might not meet your expectations. A good return policy ensures you aren't stuck with an unsatisfactory product.
Duration: Look for at least a 30-day return policy.
Terms: Ensure that the return process is hassle-free and doesn't have hidden conditions.
That's it. After reading these factors, you can now have the idea that Sony WH-1000XM5 is the perfect choice for you. But all the other four also fulfills most of these factors. So, purchase the one you like and have enjoyable gym sessions.
This post may contain affiliate links, Whenever you click an affiliate link, we may earn affiliate commission (No Extra Cost To You). Learn more.