Best Earbuds For Construction- Top 15 Picks For You
Choosing the right earbuds for a construction site is super important. The environment is noisy and dusty, which is why you can't wear any audio gadgets you like there.
The problem begins when you have to search for which are the best ones to buy. But don't worry now!
I have spent weeks finding out which earbuds are perfect for construction. I checked features, reviews, credibility, and many other things to select the top ones for you. 
Now, I am here with the list of "15 best earbuds for construction." Let's begin!
SAMSUNG Galaxy Buds 2 Pro for Construction (My Recommendation For You)
Buds 2 Pro is full of features, which is why they are my first choice. These earbuds have active noise cancellation that blocks annoying background noises (which will give you peace). They also include HD Voice technology that captures your voice perfectly no matter what.
Pros (Reasons To Buy?)
Cons
7 Best Earbuds For Construction
First, let me tell you about the seven best earbuds from the "Top 15 earbuds for construction" list. 
SAMSUNG Galaxy Buds 2 Pro True Wireless Bluetooth Earbuds
Samsung Buds 2 Pro are the best earbuds for construction because they offer many things at once. You can enjoy excellent noise cancellation, top-notch audio quality, and comfort while wearing them. Plus, their design is super elegant and fits with every dress/uniform.
Pros
Excellent Sound: These earbuds provide high-quality sound with deep bass, clear mids, and sharp highs.
Secure Fit: The Galaxy Buds 2 Pro is designed to fit securely in your ears, which is important when you're moving around on a construction site.
Good Battery Life: These earbuds offer up to 7 hours of listening time, and the charging case provides an extra 14 hours.
Quick Charge: A quick 5-minute charge can give you up to 1 hour of playtime, which is handy when you're in a hurry.
Water Resistance: Buds Pro 2 offers IPX 7 water resistance, which means you can wear them during rain, too.
Less Expensive: Compared to the Galaxy Buds Live, these are a bit cheaper, making them more accessible for some people.
Cons
Not as Comfortable: Some users have found these earbuds to be less comfortable for long periods compared to the Buds Live.
SAMSUNG Galaxy Buds w/ Active Noise Canceling
The Samsung Galaxy Buds Live are one-of-a-kind earbuds. They come with active noise cancellation, which is super useful when you're working in noisy environments like construction sites. Plus, they have a unique design that's meant to be both comfortable and secure in your ears.
Pros
Active Noise Canceling: This feature helps to block out irritating background noises, allowing you to focus on your work or your music.
Long Battery Life: The earbuds can last up to 8 hours on a single charge. The charging case provides an additional 21 to 22 hours.
Great Sound Quality: These earbuds offer clear and crisp sound, making your music and podcasts sound excellent.
Wireless Charging: You can charge these earbuds wirelessly, which is super convenient if you already have a wireless charger.
Comfortable Fit: The unique design of these earbuds makes them comfortable to wear for long periods.
Cons
Price: These earbuds are pricey, which might not be ideal for everyone.
Not Waterproof: They are not fully waterproof, so be careful if you're working in wet conditions.
Jabra Elite 7 Active in-Ear Bluetooth Earbuds
The Jabra Elite 7 Active earbuds are designed for people who lead an active lifestyle (and that includes construction workers). These earbuds offer advanced features like customizable sound settings, multi-point Bluetooth connectivity, etc.
Pros
Waterproof and Dustproof: The Jabra Elite 7 Active earbuds come with an IP57 rating, making them both waterproof and dustproof. This makes them a great option for construction sites where you may encounter water and dust daily.
Customizable Sound: You can adjust the equalizer settings in the companion app so the sound can be tailored to your liking.
Good Battery Life: These earbuds offer up to 8 hours of playtime on a single charge, and the charging case provides an additional 22 hours.
Multi-Point Bluetooth: You can connect these earbuds to two devices at once. So you can be connected to your phone and your tablet or laptop at the same time.
Secure Fit: These earbuds come with multiple ear tip sizes and wing tips for a secure, snug fit.
Cons
Complex Features: While the customizable sound and multi-point Bluetooth are great features, they can be a bit complex to set up for some people.
JBL Tune Flex – True Wireless Noise Canceling Earbuds (White), Small
The JBL Tune Flex earbuds are compact and lightweight, making them comfortable to wear. Plus, they offer active noise canceling to help you focus in noisy environments like a construction site.
Pros
Active Noise Canceling: One of the major benefits of these earbuds is the active noise Canceling feature. This can be particularly useful on a noisy construction site.
Quick Charging: A quick 10-minute charge can give you up to an hour of playtime.
Lightweight Design: The small, lightweight design of these earbuds makes them extremely comfortable.
Long Battery Life: The earbuds offer up to 10-11 hours of playtime, and the charging case provides another 20 hours (making for a total of 30 hours of battery life).
Affordable Price: Compared to the other earbuds on this list, the JBL Tune Flex comes at a more budget-friendly price point.
Cons
Not Waterproof: These earbuds are not waterproof, which is why you'll need to be careful in wet conditions.
Limited Customization: These earbuds don't offer a customizable equalizer, so you're stuck with the default sound profile.
Bose QuietComfort Earbuds II
The QuietComfort Earbuds II are designed for people who value excellent sound quality and effective noise cancellation.
The reason I picked these buds for you is that they are not just good for music; they can be an effective tool to help you concentrate on work in a noisy construction environment.
Pros
Exceptional Noise Canceling: One of the biggest draws of these earbuds is their noise-canceling capability. They can block out even the loudest construction noises, allowing you to focus better.
High-Quality Sound: Bose is renowned for its sound quality, and these earbuds are no exception. You'll experience clear highs and deep lows.
Comfortable for Long Use: The earbuds are designed with comfort in mind. The tips have a soft silicone material, and you can wear them for extended periods without discomfort.
Long Battery Life: You can use these earbuds for up to 6 hours on a single charge. The charging case offers two additional full charges, totaling about 18 hours.
Touch Controls: You can control volume, take calls, and pause or play music just by tapping on the earbuds.
Cons
Expensive: High quality comes at a price (these are some of the more expensive options on the market).
Bulky Design: Some people find the earbuds a bit on the bulky side, which might not be to everyone's taste.
Also Read: Bose vs JLab: Who Wins?
Technics HiFi True Wireless Multi-point Bluetooth Earbuds with Noise Canceling
Technics HiFi True Wireless Earbuds are designed to deliver a high-fidelity sound experience. But there's more. The earbuds offer multi-point Bluetooth connectivity, meaning they can connect to more than one device at a time. They also come with active noise Canceling to make your work environment more manageable.
Pros
HiFi Sound: If you're an audiophile, you'll appreciate the high-fidelity sound that these earbuds deliver. It's a balanced sound profile that does justice to all types of music.
Multipoint Bluetooth: The ability to connect to multiple devices simultaneously can be handy. You can switch between your phone and your tablet without having to disconnect and reconnect.
Effective Noise Canceling: The active noise Canceling is quite good, allowing you to block out distractions and focus on your tasks.
Good Battery Life: These earbuds offer up to 6 hours of playback time, and the charging case provides an additional 18 hours.
Comfortable Fit: The earbuds come with multiple tip sizes to ensure you get a smooth fit, which is important for effective noise Canceling and long-term comfort.
Cons
Complex Controls: Some users find the controls a bit complicated to get used to.
ISOtunes Free True Wireless Earplug Earbuds
The ISOtunes Free True Wireless Earplug Earbuds are unique in that they are designed as earplugs first and earbuds second. They meet OSHA and NIOSH standards, making them suitable for loud work environments like construction sites.
Pros
Safety Compliant: These earbuds meet safety standards, making them a good option for those who work in industries with strict safety requirements.
Noise Isolation: They are designed to physically block out noise.
Long Battery Life: These earbuds offer up to 7 hours of battery life on a single charge, and the case provides an additional 14 hours.
Waterproof: The ISOtunes Free earbuds have an IP45 rating, making them resistant to water and sweat.
Affordable: Compared to others, these are quite budget-friendly.
Cons
Limited Features: They don't offer features like touch controls or customizable sound profiles.
| | | | |
| --- | --- | --- | --- |
| Earbud Model | Noise Canceling | Water Resistance | Battery Life |
| SAMSUNG Galaxy Buds Live | Moderate | No | Long |
| SAMSUNG Galaxy Buds 2 Pro | Very High | Yes | Long |
| Jabra Elite 7 Active | Moderate | Yes | Moderate |
| JBL Tune Flex | High | No | Moderate |
| Bose QuietComfort Earbuds II | Very High | No | Moderate |
| Technics HiFi True Wireless | Moderate | No | Moderate |
| ISOtunes Free True Wireless | High | No | Long |
8 Other Earbuds You Can Buy
In addition to the above 7, you can also get one of these earbuds and enjoy working at a construction site:
Beats Studio Buds
Sony WF-1000XM5
Sony LinkBuds S
Jabra Elite 85t
Echo Buds with ANC
Panasonic ErgoFit True Wireless
Soundcore by Anker Life
LG TONE Free True Wireless
How I Selected These Earbuds For Construction Workers?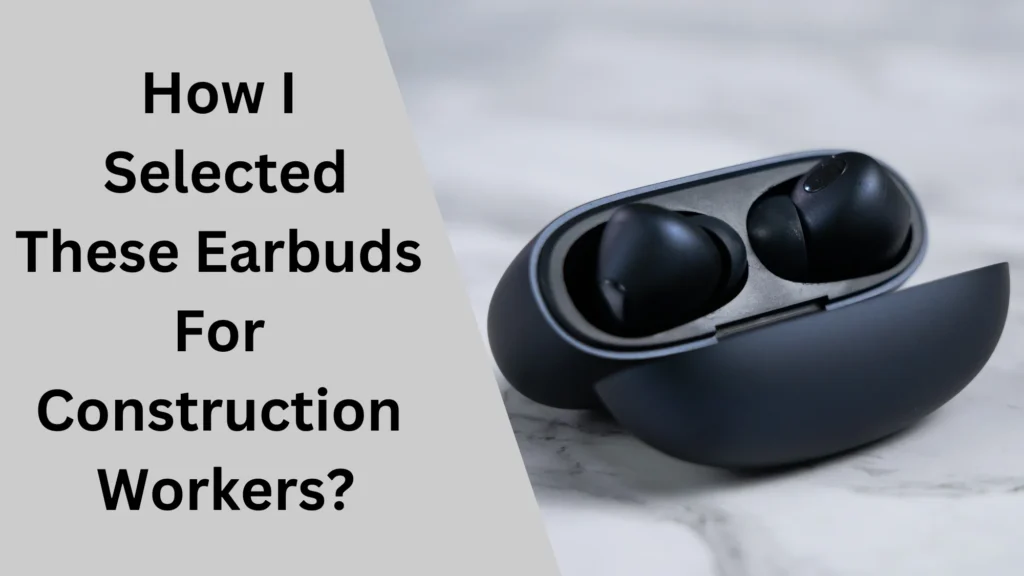 Selecting earbuds for construction workers is not a simple task. While it's easy to get carried away by the latest features and brand names, it's crucial to focus on what actually matters when you're on a construction site. That's what I did!
I picked those earbuds that can handle the tough environment, offer excellent sound quality to help you focus, and come with a design that is comfortable for all-day wear.
Check out how I did it:
Criteria for Selection
Before diving into individual products, I decided to make a selection criteria first. I shortlisted those earbuds that fulfilled the requirements and discarded those that came short.
Durability
When you're at a construction site, your earbuds will always be at risk of wear and tear. So, a sturdy design is vital. I chose those earbuds that are made of top-quality materials with excellent IP ratings.
Noise Cancellation or Isolation
The noisy environment of a construction site makes noise cancellation or isolation a must-have feature. Active Noise Canceling (ANC) technology can be particularly helpful, which is why most earbuds I have selected offer this feature.
But earbuds with good passive noise isolation can also be effective in blocking out distracting noises.
Battery Life
You don't want your earbuds to run out of power in the middle of a workday. Therefore, I considered only those earbuds that offer at least 7-8 hours of battery life on a single charge. A charging case that provides additional charges is also a significant plus.
Sound Quality
While you may not be an audiophile, good sound quality is still important when you're trying to focus on work. Clear sound can make a huge difference in your overall experience. That's why audio quality was one of the critical points of consideration.
Comfort and Fit
Comfort is key, especially when you're going to be wearing these earbuds for extended periods. I looked for options that offer multiple ear tip sizes or special design features aimed at improving comfort.
Selection Process
Once the criteria were set, the next step was to sift through the wide range of earbuds available in the market. This included reading customer reviews, looking at product specifications, and even consulting expert opinions.
Online Research
The first phase involved extensive online research (which took me weeks). Numerous e-commerce websites, tech blogs, and consumer forums were "scoured" to create a shortlist. Customer reviews were particularly useful in understanding real-world performance, durability, and comfort.
Expert Consultation
After shortlisting the potential candidates, I consulted audio experts and construction workers who had used earbuds in a work environment. Their insights were invaluable in understanding how each pair performs under actual working conditions.
Hands-On Testing
Finally, a select few made it to the hands-on testing phase. This process involved using the earbuds in a simulated construction environment.
After all of this, I selected the last 15 earbuds that are suitable for construction! 
How Can Construction Workers Prioritize Safety and Comfort with Earbuds?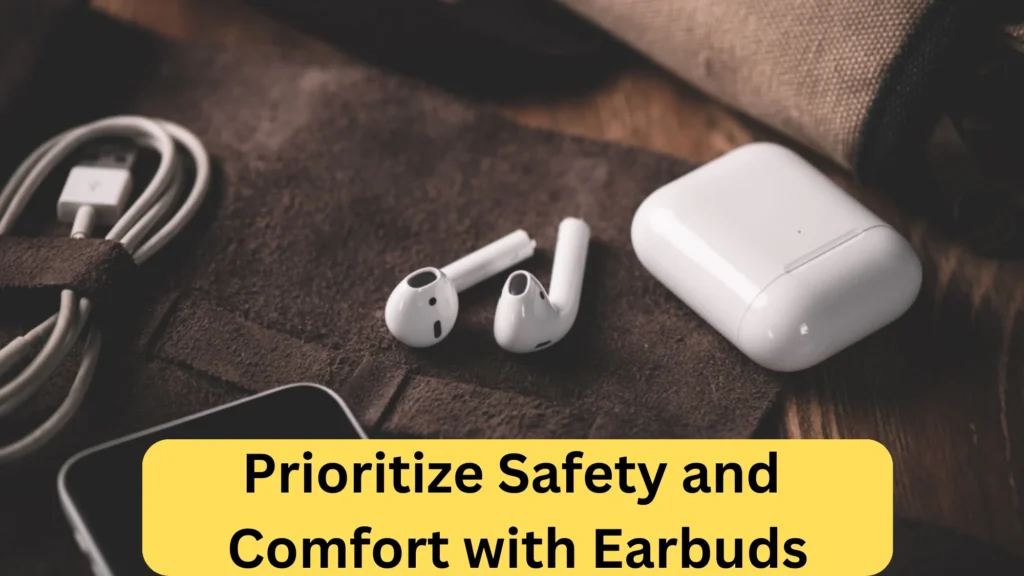 Remember that selecting the right earbuds for a construction site involves more than just picking a pair that sounds good. The environment is loud, dusty, and challenging. Also, not every construction site is the same.
Therefore, it is crucial for you to know how to prioritize safety and comfort with earbuds.
Check the Build Quality
Construction sites are not the friendliest of places for electronic devices. You'll encounter dust, possibly water, and plenty of bumps and knocks. So, what should you look for? Check the build material.
For this, ask yourself these questions (make a checklist):
Is it made of high-quality plastics, metal, or a combination of both?
Does it have any certification like an IPX rating that suggests it's water and dust-resistant?
Earbuds without these features may not last long, and you'll find yourself needing to replace them often, which is both frustrating and costly.
Pick Earbuds With Safety Ratings
In some work environments, it's crucial to adhere to certain safety standards, and using earbuds may fall under this category.
Make sure to check if the audio gadget you're considering complies with any safety standards, such as those set by the Occupational Safety and Health Administration (OSHA) or the National Institute for Occupational Safety and Health (NIOSH).
Moreover, if you're required to use Personal Protective Equipment (PPE) at your workplace, ensure that the earbuds you choose comply with the relevant safety standards.
Choose a Secure Fit
Wearing earbuds for an extended period can be uncomfortable if they don't fit well. Badly fitting earbuds can even fall out, which is frustrating and can be a safety hazard on a construction site.
Therefore, look for earbuds that come with different sizes of ear tips or even different styles of ear wings. These can make a big difference in how well the buds fit and how comfortable they are to wear.
Look for Long Battery Life
You're going to need earbuds that last as long as your workday or at least offer a quick charging feature. Nothing is more frustrating than earbuds that die in the middle of the day. This forces you to revert to less effective means of blocking out noise.
You should look for earbuds that have a minimum of 7 to 8 hours of battery life (in one go). If the earbuds come with a charging case that can extend that period, even better.
Some models offer quick charging features, where just a few minutes of charging can provide an hour or more of playback. This can be very useful if you forget to charge your earbuds the night before.
Easy-to-Use Controls are Essential
You'll be wearing gloves most of the time, and taking them off just to adjust the volume or skip a track can get annoying really fast. So, go for earbuds with easy-to-use and accessible controls. Some models come with large buttons or touch-sensitive areas that are easier to use, even with gloves on. Some even offer voice control, which can be incredibly convenient.
Keep a Spare Pair
If you rely on earbuds for your comfort while working, it's wise to keep a spare pair on hand. Earbuds can get lost or damaged, or the battery may die unexpectedly. Having a backup set ensures you're never left high and dry.
While you may be tempted to go for the cheapest option available, remember that you often get what you pay for. Lower-priced earbuds are likely to skimp on features like noise cancellation, sound quality, or battery life.
On the other hand, the most expensive options may offer features that you don't really need. Set a budget, but be prepared to make some compromises. Try to find a balance between cost and features, aiming for the best value for your money.
Follow the Manufacturer's Instructions
Always read and follow the manufacturer's instructions on how to properly use and maintain the earbuds. The reason I am suggesting this is that the correct usage will do two things:
Maximize the lifespan of your earbuds
All the safety and comfort features function as designed.
Also Read: Which Are the Best Earbuds For the Kids?
Maintenance and Care Tips Construction Workers Should Take
Taking care of your earbuds is important, especially when you're using them in a rough setting like a construction site. Proper maintenance will keep them working well and lasting longer. Here are my easy-to-follow tips on how to care for your earbuds.
Tip #01: Cleaning Your Earbuds
Dirt, debris, and sweat can build up on your earbuds, so it's recommended to clean them often. You can use a soft, dry towel, tissue, or cloth to wipe down the surface. For the ear tips, you can remove them and wash them with mild soapy water. Just make sure they're completely dry before you put them back on.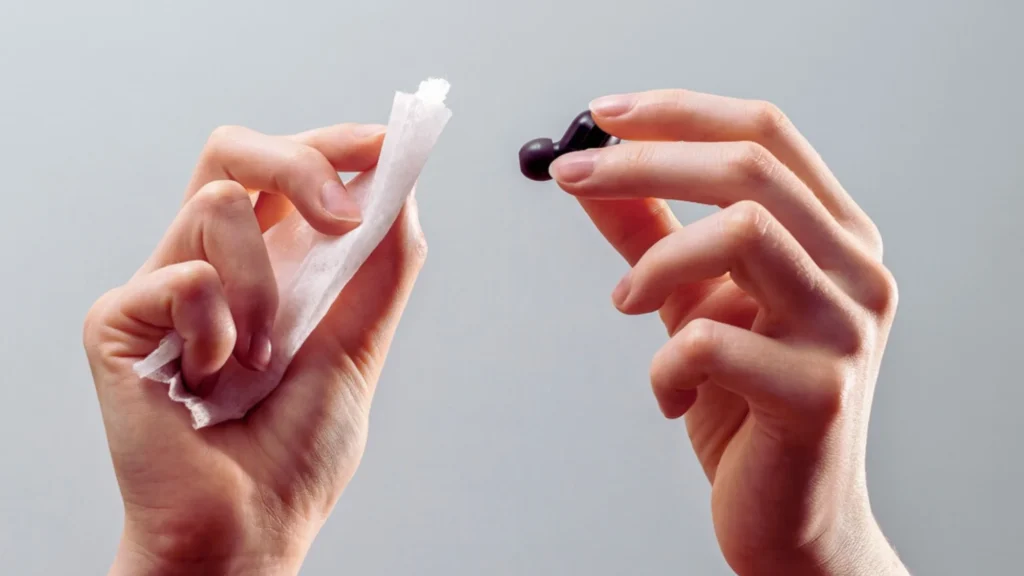 Tip #02: Storing Earbuds Properly
When you're not using your earbuds, it's best to keep them in a case. This protects them from dirt, dust, and damage. Also, don't just toss them in your toolbox or pocket where they can get all tangled up or damaged. Using the case they came in is usually the best way to keep them safe.
Tip #03: Replacing Ear Tips and Cushions
After a while, the ear tips or cushions might wear out or get damaged. This can make the earbuds uncomfortable to wear and even affect the sound quality. So, I suggest replacing them after every two to three months.
Many earbuds come with extra tips, so replace them as needed. If they don't, you can usually buy replacements from the same company that made your earbuds or find a compatible option.
Tip #03: Protect From Moisture
Construction sites can get wet, and moisture is bad for electronics. Even if your earbuds are water-resistant, it's a good idea to keep them as dry as possible. If they do get wet, make sure to dry them off as soon as you can. Also, never put them away or charge them while they're still wet.
Tip #04: Charge Carefully
It's tempting to plug in your earbuds for a quick charge from any available source, like a truck's USB port or a random wall socket. But it's best to use the charger that came with them. This makes sure they're getting the right "amount" of power and helps the battery last longer. 
Also, don't leave them plugged in for too long, as overcharging can shorten the battery's life.
Tip #05: Keep Inspecting For Any Damage
Make it a habit to check your earbuds for damage regularly. Look for things like loose wires, cracks, or any signs that the ear tips are tearing. Catching these problems early can help you fix them before they get worse.
FAQs
Which Earbuds Are Best for Working Outside?
When working outside, you'll need earbuds that are not just comfortable but also durable and water-resistant. Jabra Elite 7 Active in-Ear Bluetooth Earbuds are a good option as they are designed for active use and are water-resistant. Samsung Galaxy Buds 2 Pro also offers water and sweat resistance, making them suitable for outdoor use.
Are Noise-Canceling Headphones Effective for Use in Construction?
Noise-Canceling headphones can be beneficial for construction work as they can reduce the strain on your ears from constant noise. However, it's crucial to have the ability to hear essential safety cues. Earbuds with adjustable noise-Canceling levels or an ambient sound mode can offer a balance between noise cancellation and safety.
Are Earbuds Permitted by OSHA?
OSHA doesn't have specific guidelines banning the use of earbuds on construction sites. However, employers are responsible for ensuring that workers are not exposed to noise levels that are hazardous to hearing.
Some construction companies may also have their policies about the use of earbuds, often requiring that they meet certain safety standards. Therefore, always check your company's rules and guidelines.
Final Say
All in all, I explored the best 15 earbuds you can wear at a construction site. Out of these 15, the best one is Samsung Buds Pro 2 (according to my experience). It offers excellent active noise cancellation, which will give you peace of mind. Plus, the control is easy, and you will be able to control the buds with your finger taps.
In addition, the battery life and charging speed are also exceptional. Other features include portability. Comfortable tips, durability, and many more.
So, get Samsung Buds Pro 2 and have fun at construction sites!