How to Check AirPods Warranty (2023)?
Do you want to find out how much warranty is left on the AirPods you bought? Luckily, it is not a hard thing to do if you follow everything I say.
You can check AirPods' warranty by visiting Apple's Check Coverage website and inputting the serial number you see on the case. On your screen, the website will show the expiry date of the warranty. In addition, you can also find out about the AirPods warranty from the iPhone's Bluetooth Settings, from the Manual, and by contacting Apple.
Want complete info on these methods? Then continue reading!
Checking AirPods Warranty- Top ways
You can check the warranty of AirPods with five different methods, and each of them will work. These are:
Method #1: From Apple's Check Coverage Website
Apple launched a website called Check Coverage, from which you can check the AirPods warranty status by following these steps.
Open the Apple Check Coverage website.
Provide the serial number of your AirPods. You can find the serial number of your product on the AirPods case, original packing, and also on paired iPhone devices.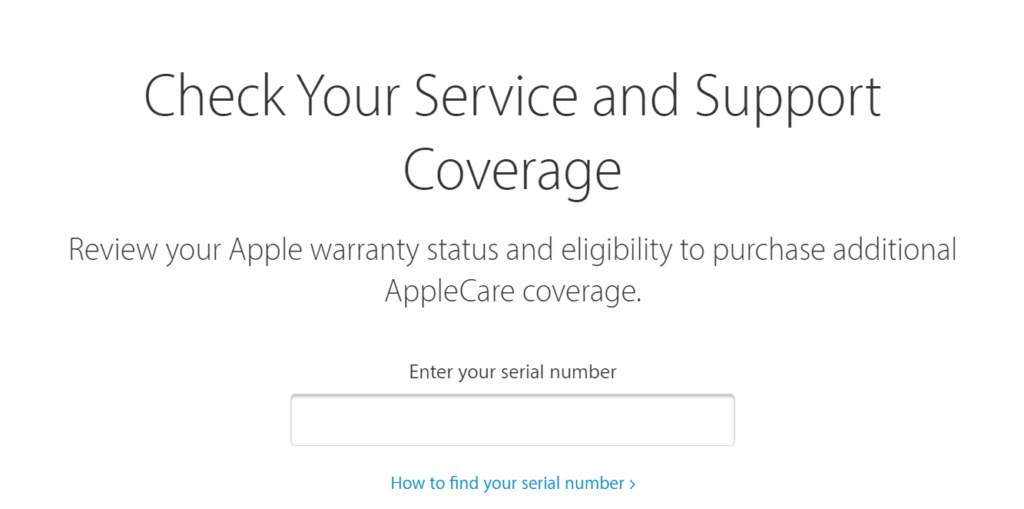 A new page (Coverage and Support) will open where you can find the warranty's expiry date. If you don't, then click on "Update Purchase Date," and go to "Repairs and Service Coverage." If the status says active, then your AirPods are still under warranty.
Method #2: From iPhone's Settings
If you want to know a way to check AirPods warranty where you don't have to use a browser or the internet, then this method is for you.
Open "Settings" of the iPhone from where you have paired your AirPods 
Tap on "Bluetooth."
Click on the information button (a letter "i" inside a circle is written next to the paired device) of that paired AirPods of which you want to check the warranty.
A screen will open where you can see the "Limited Warranty" at the end. It is the expiration date of your AirPods in a DD/MM/YY format.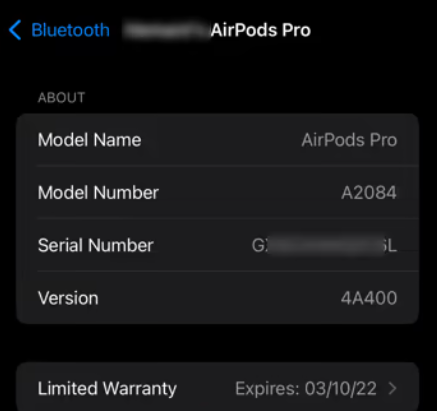 Method #3: By Reading the Manual
A manual comes with every apple product where its specifications and features are clearly mentioned. You can also know the warranty limit there, which is one year in the case of AirPods, according to Apple.
Here's what you should do.
You should write down the date when you purchased the AirPods on the manual and put it in a drawer or anywhere where you won't lose it. So, whenever you want to know how much warranty time is left on AirPods, you can just see the date on the manual and calculate it yourself.
Method #4: Visit Any Apple Store for Help
If you have a question or query about the AirPods warranty, you can simply visit any nearby Apple Store, and a customer representative will help you find the time left on the warranty. The representative will either use the Check Coverage website or open your iPhone's settings to learn about the warranty.
Make sure you also bring your AirPods case to the store as well.
Method #5: Call Apple for Assistance
If you live away from the Apple store and do not have time to visit, then you can simply contact Apple to find out about the warranty. US residents can call 1-800-275-2273, while Canadians can dial 1-800-263-3394.
If you live in any other country, you can get Apple's call number from Apple Support.
Warranty of AirPods- Some Brief Details You Should Know
The warranty of AirPods is the security which is provided by Apple management to their customers for their earbuds. It is offered to make people feel safe about spending money to purchase AirPods.
Apple gives one year warranty for their AirPods. In the warranty claims, they either repair the faulty AirPods or replace them with new ones free of cost.
But this does not mean that every AirPods defect is covered in it.
AirPods warranty only covers its battery, speaker, and microphone faults which occur due to defects in manufacturing. If the AirPods get damaged due to your own fault, then Apple won't do anything for you.
So, if your AirPods go bad because you drop them in the water or on the concrete floor, which causes structural damage, then Apple will not repair them for free. You will have to pay the asked amount to get your AirPods fixed.
What To Do If the AirPods Are Still Under Warranty?
If the AirPods are not operating properly or completely stopped working and you still have some time left in your warranty, then you should visit the Apple store as soon as possible. Apple will either repair them or give you a new one for free. If you miss your warranty time, then you will have to pay to get your AirPods fixed.
FAQs
How to Check the Warranty of AirPods Pro?
Checking the AirPods Pro warranty is the same as checking the warranty for other AirPods. The best way is to go to Apple's Check Coverage website. When you open the website, you will have to type in your AirPods Pro serial number, and the warranty status will be on your screen.
I have AppleCare+; Will I Still Pay for AirPods Repairing?
If you have purchased AppleCare+ and the AirPods go bad due to your fault, then Apple can still repair them, but you will have to pay 29$ for this. Note that you can only avail of this benefit of AppleCare+ only once a year.
Summary
So, how to check AirPods Warranty?
The easiest way to check the AirPods warranty is to visit Apple's Check Coverage website. There, type your earbuds' serial number, and it will show the expiry date of the warranty.
In addition, you can also go to the iPhone's settings, go to Bluetooth, tap on your AirPods name, and you can then see the warranty status there. You can also read the manual or contact Apple to find out about the AirPods warranty.
That's everything about how you can check your AirPods warranty!