Bose Sport vs Jlab Epic Earbuds- Which One to Buy?
When it comes to finding the perfect earbuds for working out or running, there are a multitude of options available on the market. Two of the most popular choices are the Bose Sport Earbuds and the JLab Epic Earbuds.
While both brands are known for their high-quality sound and durability, they have distinct differences that you should know.
In this article, I am doing Bose Sport vs Jlab Epic earbuds in terms of design, sound quality, battery life, and overall performance. This will help you make an informed decision and choose the best option for your fitness needs.
Bose Sport Earbuds
Bose Sport Earbuds are wireless earbuds designed for sports and fitness enthusiasts. They are the latest addition to Bose's range of true wireless earbuds and were released in September 2020. The earbuds feature a comfortable and secure fit, sweat, and water resistance, and powerful audio performance.
Bose sport earbuds have touch controls for easy access to music, calls, and voice assistants like Siri and Google Assistant. Furthermore, a single Bluetooth pairing button is located within, while four LEDs on the case's exterior show how much power is left.
However, you may find yourself tapping this button frequently because the Sport Earbuds have a few weird connectivity issues. Furthermore, you will need to control the volume from your phone or device, which can be inconvenient if you want to quickly adjust the volume while wearing them.
But good news is- The Bose Sport Earbuds run for 5 hours and 17 minutes before the batteries run out when exposed to a continuous 75 dB output. This is better than usual for truly wireless earbuds. Furthermore, if you run out of battery, you can always fast charge the earbuds. With Bose,15 minutes in the case gives you two hours of listening time.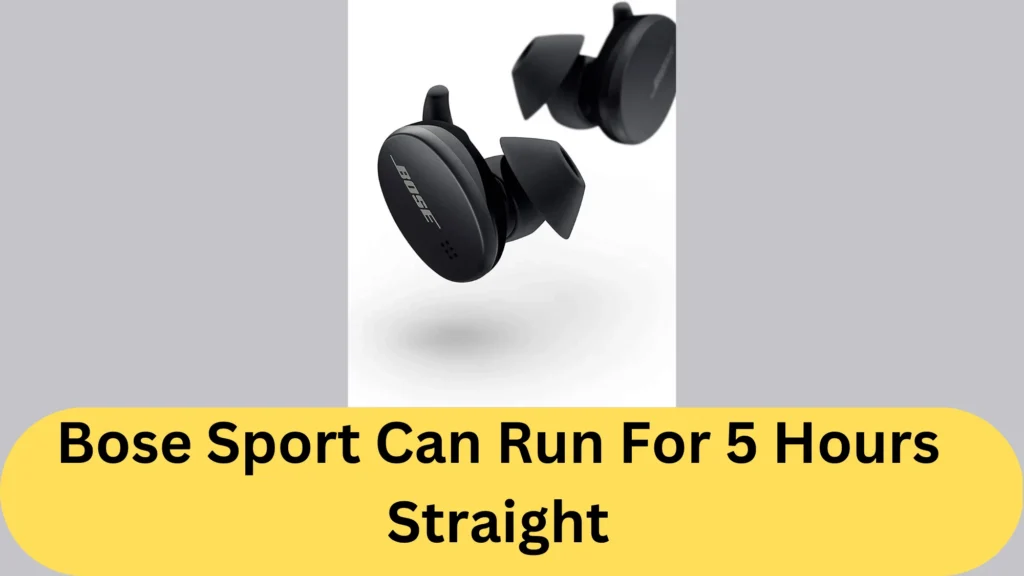 Features
Here are some key features of the Bose Sport Earbuds:
Safe and comfortable fit
Quick charging, IPX4-rated USB-C cases, Active EQ, and custom EQ.
Have StayHear Max ear tips which may look scary and are much larger than your typical sleeve at first impression, but they are quite effective.
Use Bluetooth 5.1 technology to connect to your device wirelessly, providing a strong and stable connection.
Available in three different colors- Triple Black, Baltic Blue, and Glacier White.
Pros & Cons
| | |
| --- | --- |
| Pros | Cons |
| Clear, balanced sound with deep bass and crisp highs. | Bose earbuds do not have active noise cancellation. |
| Offer up to 5 hours of battery life on a single charge (10 hours with case). | Passive noise isolation is not very effective. |
| IPX4 water-resistant rating | May not be affordable for all customers because they are expensive. |
| Comes with three different ear tip sizes for smooth fit. | |
| Available in three different colors | |
| Cozy and safe. | |
You May Also Like: SkullCandy Sesh Evo review.
Jlab Epic ANC Earbuds
JLab Epic Earbuds are wireless earbuds produced by JLab Audio- a company that specializes in making audio products such as headphones, earbuds, and speakers.
The earbuds use powerful Bluetooth technology to connect to devices such as smartphones, tablets, and laptops, allowing you to listen to music, take phone calls, and control playback without the need for wires.
The Epic Earbuds are designed to be lightweight and comfortable to wear, with features such as customizable ear tips and ear hooks for a secure fit.
Furthermore, as JLab epic earbuds are water-resistant, they are great for usage during exercise and other outdoor activities.
The JLab Epic Earbuds also comes with a charging case that provides additional battery life, with up to 12 hours of playtime on a single charge. Furthermore, JLab Epic earbuds have a pretty helpful mobile app. There, you can activate ANC's transparency mode or switch ANC on or off. If you are exercising outside and must remain aware of your surroundings, such as nearby cars or people, this app can be useful.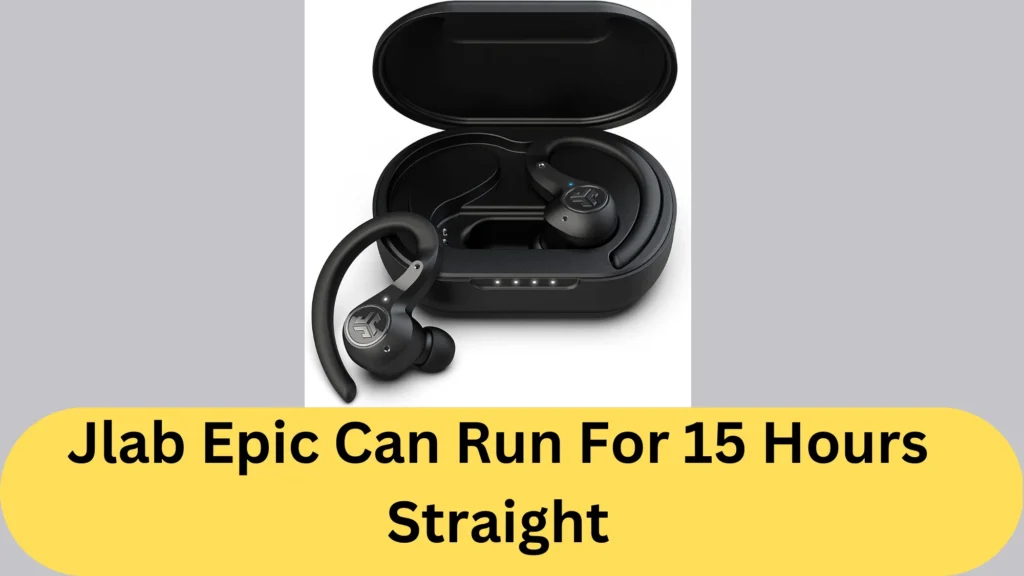 Features
Jlab earbuds use strong Bluetooth technology to connect to your devices, which allows you to enjoy music and take calls.
They include IP66-rated, which means they are sweat-resistant and water-resistance, making them suitable for use during outdoor activities.
You do not need to bring a USB-A cable everywhere because the casing has one built-in.
These earbuds can last for up to 10 hours on just a single charge.
Offer three EQ settings (Signature, Balanced, and Bass Boost) that you can adjust to your liking using the JLab app.
JLab claims that the Epic earbuds battery lasts 15 or more hours.
Come with different sizes of ear tips and Cush Fins that you can mix and match to find the perfect fit for your ears.
See More: Sudio Tretton earphones review- Are They Good?
Pros & Cons
| | |
| --- | --- |
| Pros | Cons |
| Clear and detailed sound quality, with decent bass and treble. | The earbuds offer minimal noise isolation, which means that outside noise can still seep in. |
| Relatively affordable earbuds, making them buyable to a wider range of consumers. | Charging case is relatively large, making it less portable compared to other charging cases. |
| Come with a range of ear tips to ensure a secure and comfortable fit | May feel connectivity issues in busy environments. |
| Excellent battery life | |
| Lets you choose from three EQ settings. | |
Comparison Table Bose Sport vs Jlab Epic Earbuds
| | | |
| --- | --- | --- |
| Features  | Bose Sports Earbuds | Jlab Epic Earbuds |
| Battery Life | 5 hours | 15 hours |
| Water-resistance | IPX4 | IP66 |
| Bluetooth version | 5.1  | 5.2 |
| Control | Touch | Button |
| Charging time | 2 hours | 1.5 hour |
| Voice assistant  | Yes  | Yes |
Wrapping Up
In conclusion, in this comparison of Bose Sports vs JLab Epic Earbuds, we find out that both offer great options for wireless earbuds with unique features and qualities. While the Bose Sports Earbuds have a higher price, they provide better sound, making them ideal for audiophiles who prioritize audio experience.
On the other hand, the JLab Epic Earbuds are more affordable and offer a longer battery life, making them a great option for those who prioritize convenience and budget.
Ultimately, the choice between the two earbuds will depend on your personal preferences and priorities. Both brands offer excellent app support, voice assistance, and good comfort for all-day use.
Therefore, it is important to assess your own needs and choose the earbuds that best fit your lifestyle and budget.
Also Read: Should You Buy Wired or Wireless Headphones?