Ziuty Wireless Earbuds Review- Should You Buy Them?
Are you wondering whether Ziuty wireless earbuds are good? Well, those who haven't tried them usually search about them. It's understandable too, because reading a review on the audio gadget gives you an idea about whether it is worth buying.
The great news is:
Ziuty wireless earbuds are indeed worth the price because they offer the best experience. You can enjoy snug fit, superb sound quality, long play hours, and much more when you try these buds.
You might need help purchasing the top Ziuty wireless earbuds (to have the best time). If yes, then I have shortlisted the top ones in this review as well. Let's begin.
ZIUTY WE Earphones with Mic- (My Pick For You)
Ziuty wireless earbuds offers many features to users, which is why they have thousands of positive reviews/rating on different review platforms.
Pros
Cons
Now, let's read the details on why Ziuty wireless earbuds are the best. But if you want to read which are the top three models, then this link will take you to that part.
Ziuty Wireless Earbuds Review- Why Go For Them?
You should go for Ziuty wireless earbuds without worries because they offer lots of benefits. Each piece has a smart touch and IPX rating of 5. The audio quality is also top-notch, which means you can hear every frequency easily.
Now, onto the details.
Long Play Time
One of the biggest problems with wireless earbuds is that they often run out of battery too quickly. Isn't it frustrating when you're out for a jog or in the middle of a phone call, and the gadget powers off? 
Luckily, this is where Ziuty earbuds shine. They come with a long-lasting battery that won't give up on you when you need it the most. I like these earbuds because they can run for around 10 hours easily (that's nearly half a day).
So, you can do the following with them: 
Wear on a long flight
During an all-day outdoor event
Just want to have a full day of non-stop music.
Charging them is easy too. The earbuds come with a small and portable charging case. All you need to do is place them in the case, and they'll be fully charged in no time. This way, you can enjoy your favorite songs or podcasts without worrying about running out of battery.
Fits Perfectly
The next thing you'll love about Ziuty earbuds is how well they fit. Many of us have struggled with earbuds that are either too tight, making our ears sore. Similarly, earbuds keep falling out if they are too loose.
Ziuty earbuds are designed to fit perfectly in your ears. They come with various sizes of ear tips so you can find the one that's just right for you.
Moreover, this snug fit also helps to block out outside noise, so you can truly get lost in your music or focus on your calls.
Also Read: Find Out Which Earbuds are Best For the Kids?
Top-Notch Bluetooth Technology
We've all had those moments where we try to connect our earbuds to our phone, and it takes forever. Or even worse, the connection keeps dropping. That's not only irritating but also ruins the whole experience of going wireless.
Don't worry; Ziuty earbuds use the latest Bluetooth technology to make sure you have a smooth and stable connection.
Crystal Clear Sounds
Sound quality is a big deal when it comes to earbuds. After all, what's the point of going wireless if you have to compromise on how your music or calls sound? You'll be happy to know that Ziuty earbuds deliver crystal clear sound that will blow you away.
When you listen to music with these earbuds, you'll hear every instrument, every note, and every beat as if you're in a live concert (at least that's what I felt).
People are also lauding the audio quality. After reading their reviews, I have summed up their experiences:
The bass is deep but not overwhelming
The high notes are crisp and clear. 
Sound doesn't fluctuate.
Moreover, phone calls are equally impressive. You know how sometimes it's hard to hear what the other person is saying, especially if you're in a noisy place? With Ziuty, that problem goes away. The earbuds have noise-canceling features that make your calls sound clear, even in loud environments.
IPX Rating
Here's the thing- If you're someone who loves to stay active or if you simply want earbuds that can withstand daily wear and tear, then the IPX rating is something you should care about.
The IPX rating tells you how resistant the earbuds are to things like water and sweat.
Ziuty earbuds come with a solid rating, which means you can use them while working out, running in the rain, or even while taking a shower (but be careful though).
Smart Touch Control
Another thing I admire about Ziuty is the smart touch controls. With just a simple tap or swipe on the earbuds, you can control pretty much everything.
Want to turn up the volume? A quick swipe will do it. Need to answer a call? Just tap the earbud. It's that simple.
This means you can keep your phone in your pocket and control your audio experience right from the earbuds. This feature is especially useful when you're working out or driving, as it lets you stay focused on what you're doing.
Elegant Design
Ziuty earbuds come in a sleek and stylish design that you'll be proud to show off. The charging case is equally impressive, small enough to fit in your pocket but sturdy enough to protect your earbuds when you're not using them.
In addition, the earbuds also come in various colors, so you can pick the one that best matches your style. But it's not just about looks; the design is also functional.
The earbuds are lightweight, which means you can wear them for hours without feeling any discomfort. The charging case is easy to open and close, and it has a strong magnet that keeps the earbuds securely in place.
Best Ziuty Wireless Earbuds- My Picks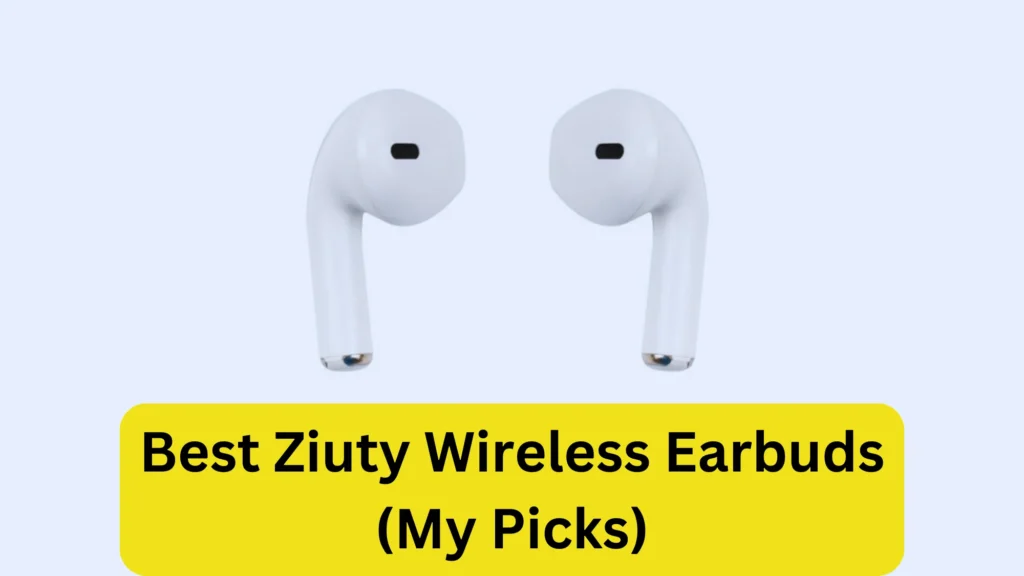 After checking hundreds of reviews, I have shortlisted the top Ziuty wireless earbuds for you.
ZIUTY WE Earphones with Mic for All- Best Overall
Features
Universal Compatibility: As already mentioned, these earbuds can be used with a wide range of devices. This makes them perfect for people who use multiple gadgets and don't want the hassle of buying different earbuds for each.
Sports-Friendly: These earbuds are sweatproof, making them ideal for workouts, jogs, or any outdoor activity. They stay in your ears and won't fall out, even during the most rigorous exercise sessions.
Built-in Mic: The built-in mic makes it super easy to take calls. The sound clarity is excellent, so you don't have to worry about missing out on important details during a conversation.
Good Battery Life: The earbuds offer up to 50 hours of play time. They come with a charging case that makes it easy to recharge them on the go.
Cons
This earbuds is only available in black color (no diverse choices)
ZIUTY Wireless Bluetooth 5.3 Headphones
Features
Extended Battery Life: With up to 50 hours of playtime, you read that right, 50 hours! These earbuds are a game-changer. You can use them for days without worrying about recharging.
LED Digital Display: The charging case comes with an LED digital display that shows you exactly how much battery is left. This takes out the guesswork and lets you know when it's time to charge.
Bluetooth 5.3: This model uses Bluetooth 5.3, which is one of the latest versions. This means a more stable connection and better sound quality. You can move around freely without worrying about the connection dropping.
High-Quality Sound: Just like the other Ziuty model, this one also offers excellent sound quality. The bass is deep, and the highs are clear, making for an immersive audio experience.
Cons
Does not offer excellent noise cancellation.
Also Check Out: Sudio Tretton Wireless in-Ear Earphones Review
ZIUTY Wireless IPX5 Waterproof Earbuds
Features
LED Digital Display: This model has an LED digital display on the charging case, which makes it super easy to know your battery status. No more guessing or surprise power-offs!
IPX5 Waterproof Rating: This model comes with an IPX5 rating, which means it's water-resistant. You can confidently use these earbuds in the rain or while working out without worrying about damaging them.
Sound Quality: These earbuds offer superb sound quality. You get a balanced audio experience with crisp highs and deep lows, perfect for music, podcasts, or calls.
Comfort: Comfort is key when it comes to earbuds, and this model doesn't disappoint. The ergonomic design ensures that the earbuds fit well and stay secure, even during physical activities.
Cons
Final Words
In this Ziuty wireless earbuds review, I discussed all the reasons which make them one of the best. I like their long play time hours, fast charging speed, clear audio quality, smart panel, and many other features. The company offers you these things at an affordable price.
Here, I also explored the top three Ziuty earbuds you can get. Out of them, the best one is Ziuty WE because of these reasons:
It's comfortable.
Has V5.5 Bluetooth technology.
50  hours of battery life
IPX 5 rating.
So, get this audio device and have fun!
This post may contain affiliate links, Whenever you click an affiliate link, we may earn affiliate commission (No Extra Cost To You). Learn more.