Apple Music vs Spotify vs Deezer: Which Is Right for You?
Today, there are several music streaming options to choose from, with Apple Music, Spotify, and Deezer being among the most popular. Each of these platforms has its own distinct set of user interfaces, features, and music libraries.
But with so many options, deciding on the best streaming music service might be challenging. As a result, a comparison of the three platforms is required to make an informed conclusion.
In this article, I am doing Apple Music vs Spotify vs Deezer in-depth. I am also outlining their pros, cons and unique features.
So, If you enjoy music as much as I do, keep reading to discover the greatest app for you!
Apple Music
In 2015, the well-known music streaming service Apple Music was introduced by Apple. Today, it allows users to stream millions of songs on demand, listen to customized playlists, and access exclusive content from their favorite artists.
There are many different devices that support Apple Music, including iPhones, Apple Watches, iPads, Macs, and even Android phones.
Because of its intuitive user interface and unique features, like its Beats 1 radio station and the capability to stream music smoothly across numerous devices, this platform is incredibly famous.
In addition to streaming music, Apple Music also offers original video content, such as documentaries and concert films, as well as podcasts.
Features
The key features of Apple Music are:
At Apple Music, you can get access to over 100 million songs, including exclusive releases and live performances
It is really easy to send your favorite music via social media and messaging services to your friends.
This platform is integrated with Siri.
You can also get access to Beats 1 radio station, featuring exclusive interviews and shows hosted by popular artists
Pros 
Access to original podcasts, including shows hosted by celebrities and experts
Compatibility with a variety of gadgets, including Android smartphones, Macs, Apple Watches, iPhones, and iPads.
Up to six individuals may share a single subscription under the family sharing plan.
Option for lossless and high-resolution audio playback with the introduction of Apple Music's Hi-Fi tier in 2021.
Provides high-quality audio streaming based on Spatial Audio tech, Dolby Atmos mix, and the lossless audio codec ALAC. It should be noted that Spotify and YouTube Music do not support lossless audio streaming.
The service provides subscribers with many ways to discover their favorite music. There is a "Listen Now" feature that automatically curates content based on a user's listening history and habits. 
Cons
Higher subscription cost compared to some other music streaming services
Compared to other platforms, Apple Music has fewer social features, such as the ability to follow and communicate with other users.
Some users may find the user interface to be overwhelming due to the variety of features and settings.
Less flexible subscription options compared to some other platforms, such as no free ad-supported tier
Limited compatibility with some third-party devices and services, particularly compared to Spotify.
Spotify
Founded in Stockholm, Sweden, in 2006, Spotify has revolutionized the way people listen to music by offering an extensive library of songs, albums, and podcasts that can be accessed on demand.
With over 350 million monthly active users in 170 countries, Spotify has become a global phenomenon, offering both free and premium subscription plans to its users. The platform's success can be attributed to its user-friendly interface, personalized recommendations, and vast music library, which includes over 100 million songs.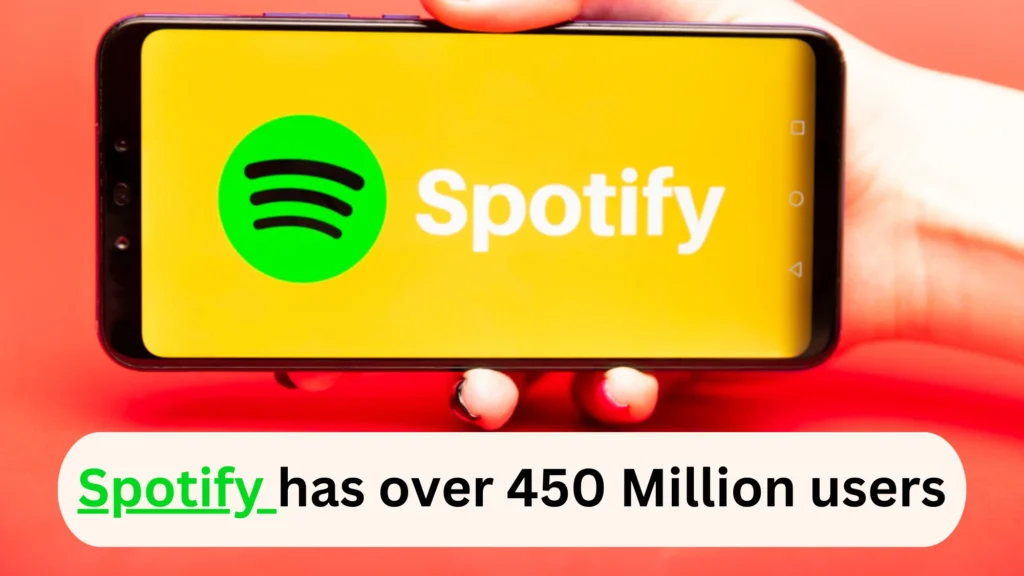 Features
The top Spotify features are:
Spotify has one of the largest music libraries in the world, with over 100 million tracks, making it easy for users to discover new music or listen to their favorite songs.
Based on a user's listening history and preferences, the app employs algorithms to produce customized playlists.
Spotify provides a number of podcasts and audio broadcasts in addition to music on a range of subjects.
Users can create playlists with friends and family by sharing links, adding or removing songs, and listening to them together.
The app provides a variety of tools for users to discover new music, including daily personalized playlists, curated playlists, and the "Discover Weekly" feature that suggests new songs every week.
Pros 
Users can share their music and playlists on social media, as well as follow their friends' profiles and see what they are listening to.
Users may download their music and listen to it offline with a premium membership.
Spotify offers a variety of audio quality options, including high-quality streaming, which allows users to enjoy their music in high fidelity.
Users can choose between an ad-supported free version or a premium subscription that offers additional features, including ad-free listening, offline playback, and higher-quality audio.
Cons
Although Spotify allows users to download music for offline playback, there are limitations on the number of songs that can be downloaded and the number of devices on which they can be played.
While Spotify offers high-quality streaming, some audiophiles may still find the audio quality lacking, particularly in comparison to lossless audio formats like FLAC.
Spotify's personalized playlists and recommendations are useful, some users may feel that the app limits their control over the music they listen to and the ability to customize their listening experience.
Deezer
Deezer is a music streaming service that was founded in 2007 and has since grown to become one of the most popular music platforms in the world. Deezer, a French company, has a sizable collection of over 90 million pieces of music available on a range of devices, including smartphones, tablets, desktops, and smart speakers.
With a focus on personalized music discovery and high-quality audio, Deezer has become a favorite among music enthusiasts who want to explore new artists and genres, as well as listen to their favorite songs and albums.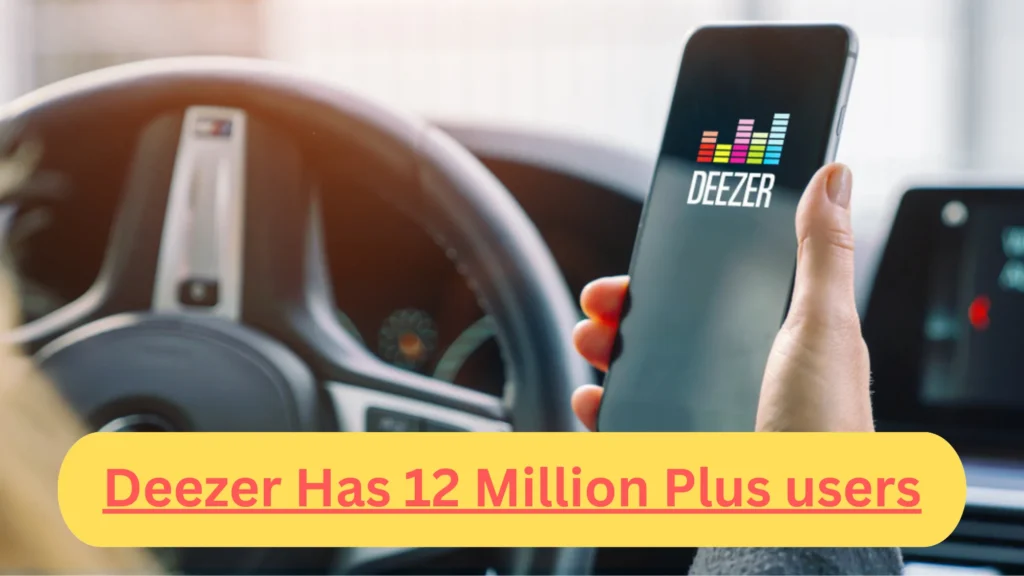 Features
The best Deezer features are:
Deezer includes an extensive library of over 73 million tracks.
Depending on a user's listening history and preferences, it creates custom playlists.
Offers high-quality audio streaming in FLAC format for its premium subscribers, which provides a superior listening experience to other music streaming services.
Users can listen to their favorite songs offline, too, by purchasing the premium membership of Deezer
In addition to music, Deezer also offers a lot of interesting and educational podcasts on different topics.
Pros
Offers CD-quality audio at 1411 kbps
Provides podcasts, audiobooks, and radio broadcasts.
Deezer supports song downloads for offline listening.
Allows you to download and upload MP3 files from your PC.
Deezer's "Flow" feature creates a personalized radio station based on a user's listening habits, providing an endless stream of music tailored to their preferences.
Cons
There are limitations on the number of songs that can be downloaded and the number of devices on which they can be played.
While Deezer offers a range of podcasts, its podcast features are still somewhat limited in comparison to dedicated podcast apps.
Some songs and albums may be regionally restricted and not available in all countries, limiting the accessibility of certain music.
Comparison Table: Apple Music vs Spotify vs Deezer
Here is the comparison table of Apple Music, Spotify, and Deezer.
| | | | |
| --- | --- | --- | --- |
| Features | Apple Music | Spotify | Deezer |
| Music Library | More than 100 million songs | More than 100 million songs  | More than 90 million songs |
| Offline Playback | Yes | Yes | Yes (but limited) |
| Free trial | Three month | One month | One month |
| Ads-Supported version | No  | Yes  | Yes  |
| High Audio Quality | Yes (Loss-less) | Yes(High Quality) | Yes (FLAC) |
Final Thoughts
In conclusion, when it comes to choosing a music streaming service, Apple Music, Spotify, and Deezer are all popular options. 
Apple Music has seamless integration with Apple's ecosystem and a large music library, while Spotify offers an impressive algorithm for personalized playlists and social features for music discovery. Deezer also has a vast collection of international music and podcasts.
Ultimately, the best service for an individual depends on their personal choices. But when comparing all these three, Apple Music seems to have a little edge, according to me.
Also Read: Bard vs ChatGPT vs Bing Chat Comparison- Which Is Better?